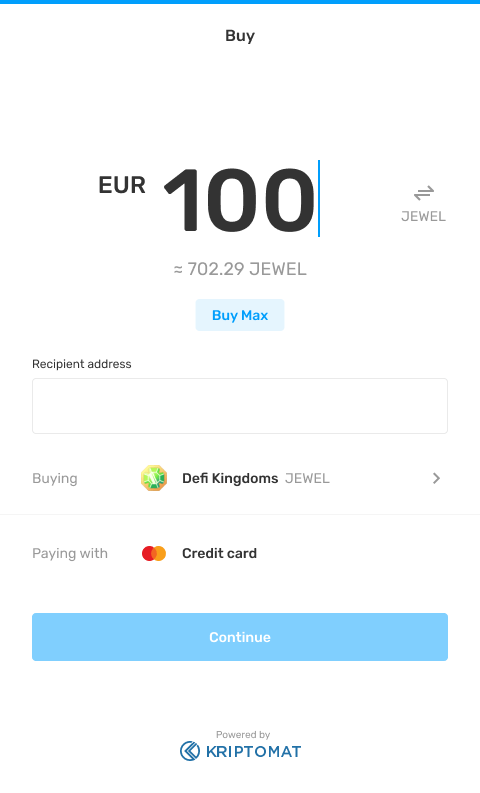 About DeFi Kingdoms
Player Base: More than 65,000+ PLAYERS
Genre: DEFI, RPG
Device: WEB
Blockchain: AVALANCHE, HARMONY
Status: LIVE
What is DeFi Kingdoms?
DeFi Kingdoms is a metaverse-style simulation game that includes heroes to defend the gardens you create, go on quests, mine for valuable items, and forage for resources.
The game incorporates elements of decentralized finance applications. For example, players can mine, swap, and stake tokens from within the game.
The main objective of the game is not to prevail over other players, but to take advantage of the game's DeFi features to earn a good return on their token investments.
It is valid to look at DeFi Kingdoms as a gamified DeFi app with a metaverse-style user interface or as a simulation game that includes DeFi features.
Either way, the in-game JEWEL tokens are essential.
Current Price Data
DeFi Kingdoms Price
Low:
High:
How to Buy DeFi Kingdoms (JEWEL) Tokens Now
1. Purchase USDT at Kriptomat
Kriptomat is the fastest, easiest way to start your DeFi Kingdoms journey. Start by buying USDT tokens. Simply create your free Kriptomat account, complete the quick account verification procedure, and make the purchase. Visa and Mastercard support means you can complete this process in minutes.
2. Set up an account at the MEXC crypto exchange
Follow the instructions to complete installation. Create a wallet and password, connecting to the Harmony blockchain.
3. Find your MEXC wallet address
At MEXC, find the address of your Harmony MEXC wallet.
4. Transfer USDT from Kriptomat to your MEXC wallet
At Kriptomat, locate My Wallets. Click on Send and paste the wallet address from MEXC into the "Recipient address" blank. Specify the amount of USDT you wish to send and confirm the transaction. You may need to confirm the transfer via email.
5. Swap the USDT for JEWEL at MEXC
Follow the directions at MEXC to purchase JEWEL tokens with the USDT you have transferred into your account.
6. Play DeFi Kingdoms
Now that you have JEWEL tokens, you have full access to all the features of DeFi Kingdoms.
Good luck, and may your liquidity pools be deep!