Recurring buy
Saving 100 € in Bitcoin per week, over the last three years turned into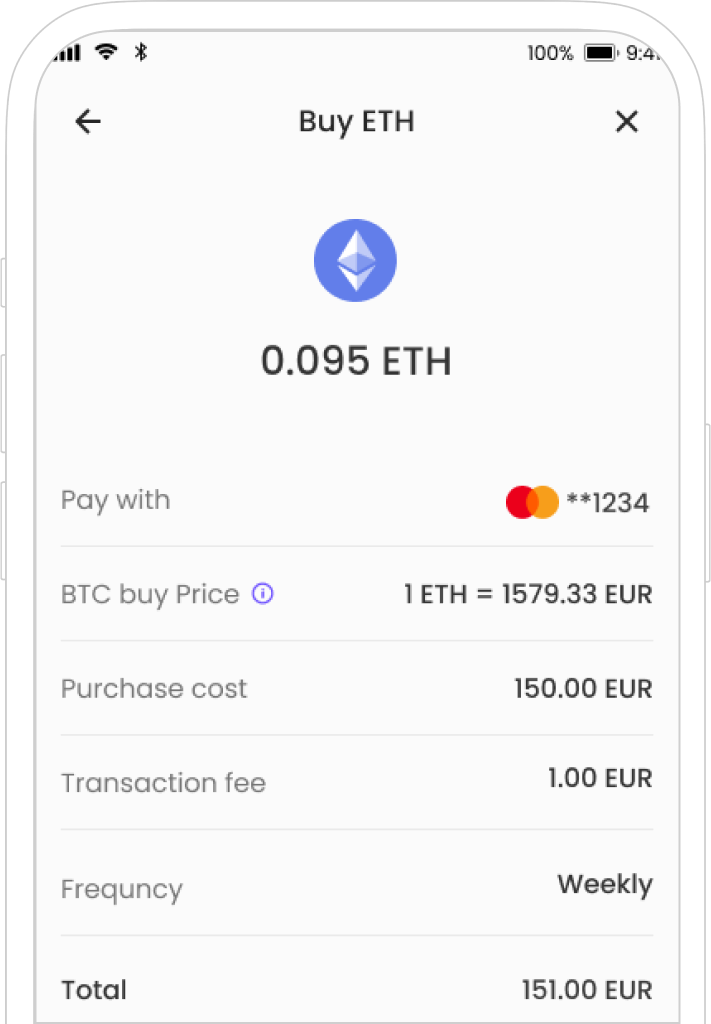 What is a recurring buy?
Regularly scheduled buys smooth out price changes and reduces your average cost. It's called Dollar Cost Averaging. Learn more
Avoid the stress of day trading.
here's no need to obsess over prices or predict market highs and lows.
Stop guessing the right time to invest
Regularly scheduled buys smooth out price variations which is commonly called the DCA strategy.
Regular smaller investments can reduce risk
Rather than making a big investment, start with smaller amounts and grow your crypto portfolio over time.
Step 1
Select the crypto you want to buy, the amount, and the frequency.
Step 2
Select your payment option: Visa, Mastercard, or fiat bank transfer.
Step 3
Enjoy watching your portfolio grow over time – automatically.
How are historical returns calculated?
Historical profits are calculated using historical prices taken on a weekly basis on each Monday.
What is DCA?
DCA investing delivers five main benefits:
When is DCA more effective than lump-sum investing?
How often are purchases made?
Can I change or discontinue my purchases?
What are the minimum and maximum purchases?
How is ROI calculated?
Manage your portfolio –wherever you are
Use the website or download our safe and secure mobile app today.