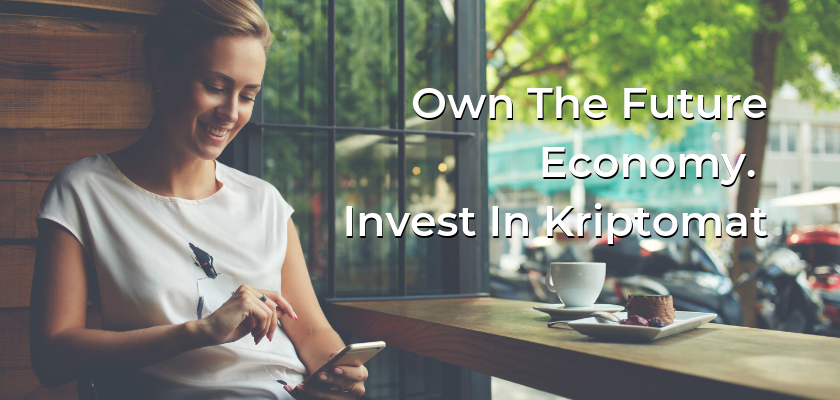 In this article, we explain the value of our upcoming STO to our users and investor community and highlight what it means to become one of our first shareholders by investing in Kriptomat securities. All data in this article is informational only. Final and legally binding details will be disclosed in the Offering Document.
Key takeaway points:
Kriptomat is one of the first Digital Currencies platforms to share profits and revenue with its users.

Crowdfunding Securities are publicly offered through the crowdfunding platform DESICO,

Investors receive Kriptomat Securities (KRTEX) in exchange for a minimum investment of €250. The nominal value of 1 (one) unit of security will be €0,1,

Investors will receive (indirect) economic ownership of Kriptomat, as well as benefiting from a potential value increase in the company,

Investors who own Kriptomat securities are entitled to revenue and profit sharing via dividends,

On the 16th of May 2019, Kriptomat will publish an offering document for the Security Token Offering (STO).
With the funds raised from this STO Kriptomat plans to accelerate growth across Europe and start expansion to other markets.
Why an STO?
We have reached critical velocity and, rather than surrender control of our destiny by seeking institutional funding, we have chosen to give our users the chance to support our company by buying digital shares and investing in our platform. We want EVERYONE to have a stake in the company and a share of the profits and revenues. We believe the new economy should be one where everyone has the opportunity to make a smart investment.
There are many reasons why we chose an STO.
First of all, we want our users to become our investors. It is our priority to integrate our users so that they will be invested in contributing to the growth and profitability of Kriptomat. By enabling our users to invest in Kriptomat, we showcase the core of our business model. We want to share our growth and success in an open, accessible manner.
Secondly, we are an innovation-driven team, and we love how innovative an STO is in lowering the barrier of entry for investors in a legally compliant way. We are especially excited about the fact that investing opportunities that used only to be available to accredited and institutional investors now became available to retail investors.
Digital securities also provide greater flexibility with respect to the type of security that can be offered to investors as well as offering greater geographic reach.
It is our vision to bring digital currencies into every household, and as a company operating in the blockchain industry, we're excited to be one of the first companies of its kind to be launching an STO!
What are we actually offering?
By participating in Kriptomat's STO, investors receive Kriptomat Securities (KRTEX) in exchange for an investment in euros (EUR). Investment in BTC, ETH and other cryptocurrencies is also available using Kriptomat's exchange platform.
Investors can invest from €250 up to €250.000 (or the equivalent thereof in BTC or other cryptocurrencies, as detailed in our Offering Document). The nominal value of 1 (one) unit of security will be €0,1.
| | |
| --- | --- |
| Offering document is public to registered DESICO users | Thursday, May 16th, 2019 |
| Opened for investment | Wednesday, May 22nd, 2019 |
| Offering end | Thursday, June 27th, 2019 |
| Investment goal (hard cap) | €1.800.000,00 |
| Nominal value of 1 (one) unit of security | €0,1 |
| Minimum participation | €250,00 |
| Maximum amount of securities issued | 18.000.000 |
What are Kriptomat securities holders' rights?
A Kriptomat security entitles the holder to an (indirect) economic right to the proceeds paid out by Kriptomat on the underlying non-voting shares over time.
Securities holders are therefore entitled to:
Receive 8% of Kriptomat OU's Earnings Before Tax (EBT) every 6 months,
and 4% of Kriptomat OU's audited Net Profit every year.
Profit from a potential increase in the value of KRTEX over time.
Please note: The amount holders receive is a proportionate amount of the total based on how many tokens they own.
What are the benefits of receiving Kriptomat securities dividends?
All dividends will be distributed directly to the Holder's bank account in Euro or to their digital wallet in the form of cryptocurrency (based on the daily actual exchange rate).
The schedule of payments is presented in the Offering Document.
How will the offering happen and what are the main dates?
Our Security Token Offering (STO) will take place in May 2019 and will be hosted by an EU regulated and licensed crowdfunding platform DESICO (www.desico.io).
To participate in Kriptomat STO, you need to register an account with DESICO and complete the verification process. The registration is a one-time process that includes KnowYour-Customer and Anti-Money Laundering (KYC/AML) procedures as a legal requirement.
*Main dates to follow:
9 May 2019 – Registration on DESICO platform
16 May 2019 – Offering document will become available to registered users of DESICO platform
22 May 2019 – Opened for investment
27 June 2019 – Offering closes
Investors purchase our security tokens on a first-come-first-serve basis. Investing is scheduled to open on Thursday, May 23rd, at 16:00 CET. The offering will end either once the Cap of the offering is reached or on Thursday, June 27th, at 16:00 CET.
*all dates and times are subject to change.
The potential of Kriptomat and the future of digital assets
Online banking, contactless payments and even credit cards once seemed alien and futuristic to the average user but are now widely accepted.
All innovations face resistance to adoption until they reach a critical mass of users, and crypto and digital assets are no different. Potential users fear the unknown and the unfamiliar.
The adoption of crypto and digital assets is hindered by several issues that Kriptomat is successfully solving.
Bloomberg reported that in 2018 the Total Addressable Market reached €3tn of Global digital currencies trade volume, while retail facing digital currencies exchanges reached a €100bn market. Gartner is projecting that the entire addressable market for digital assets is expected to grow to more than $75tn by 2028.
With our growth strategy and strong competitive advantages, Kriptomat is focusing on how to bring cryptocurrencies into every household. We want to simplify and democratize the world of digital currencies, making their use more accessible to regular people. To do this, we work on removing the key obstacles that prevent many people from adopting digital currencies. Trust, security, and usability are the cornerstones of Kriptomat's philosophy.
We're experiencing phenomenal organic growth, with an average 20% month on month increase in user numbers, a 25% month on month increase in transaction numbers, and a 20% month on month increase in the amount of funds deposited.
Our goal is to grow to have a 5% market share of the retail facing digital currencies market.
About Kriptomat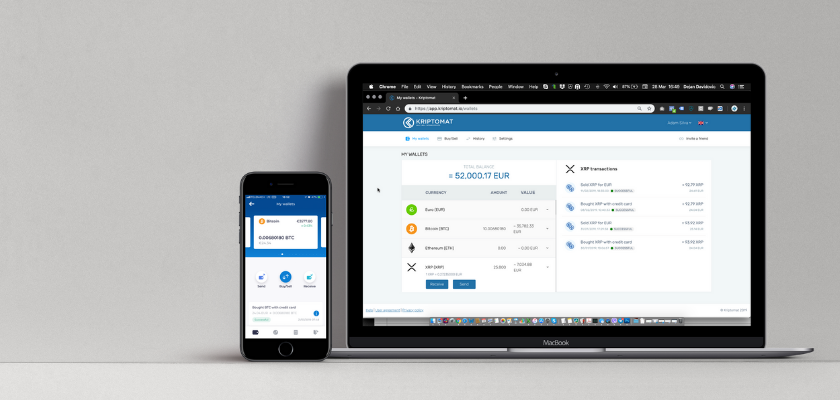 Kriptomat – the easy and secure way to buy, sell, trade and store digital currencies.
Launched in Tallinn, Estonia in 2018, Kriptomat is a fully regulated and secure, user-friendly platform to buy, sell, use, and store digital currencies.
The Kriptomat exchange platform allows non-tech-savvy users and crypto beginners to enter the world of digital currencies easier than ever before, giving them a user-friendly interface and secure, regulated environment to ease into the new economy.
We're a founding member of the International Association for Trusted Blockchain Applications (INATBA), an organization supported by the EU Commission (https://inatba.org/).
Trust, security, and transparency are three of our core values, which is why we hold operating licenses issued by the Financial Intelligence Unit for providing services of exchanging a virtual currency against fiat currency (License No. FVR000079) and providing a virtual currency wallet service (License No. FRK000060).
Kriptomat is a web platform, and it is available as a mobile app for Android and iOS. Kriptomat is issuing a security token in May 2019.
NOTE
This text is informative in nature and should not be considered an investment recommendation. It does not express the personal opinion of the author or service. Any investment or trading is risky, and past returns are not a guarantee of future returns. Risk only assets that you are willing to lose.