18. 08. 2021
23 August 2021
Q: What if humanity invested in the creation of awesome supercomputers that would fit in our pockets and linked them all up in a global network so people could share works of scholarship, genius, and inspiration from all of human history?
A: We'd use it to trade pictures of animals being cute.
What was once a punchline is now a reality. A series of non-fungible tokens corresponding to images of cute penguins has swept the cryptoverse, capturing the imagination of thousands of users.
NFT marketplace OpenSea reports that the Pudgy Penguins collection has become its top-traded asset.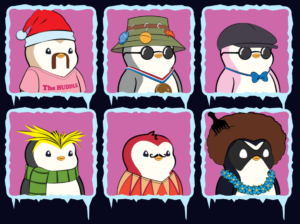 Pudgy Penguins are jpeg files that are minted as Ethereum-hosted NFTs.
The collectibles are commanding premium prices at auction, with one Pudgy Penguin selling for a record 150 Ether, or about €400,000. That penguin is now listed for sale at 500 ETH: €1.3 million at current prices.
The 8,888 Pudgy Penguins currently trade for a starting price of 3.38 Ether at OpenSea, or about €3,600 each. 
Owners of Pudgy Penguins may be a bit nervous following the evaporation of OpenSea's Sad Frogs District. OpenSea's Sad Frogs project was based on 7,000 NFTs featuring digital images of a frog character. The project has been pulled off the site following a Digital Millennium Copyright Act notice from the creator of the Pepe the Frog cartoon character. Cartoonist Matt Furie says the Sad Frogs are variations on his copyrighted Pepe character. 
What happens to people who spent thousands of dollars acquiring Sad Frogs while they were on sale? No one is quite sure. OpenSea sold more than 1,800 of the NFTs in the week before they were pulled down off the site, generating more than €1 million. Now owners of the tokens have no marketplace in which to buy or sell them.
Pudgy Penguins and Sad Frogs are the latest in a series of image-based NFTs to capture the interest of collectors and investors. Earlier waves of love and money were devoted to Crypto Punks and Bored Apes. The NFTs are cute, and like all collectibles, they can be a worthwhile investment if you time your purchase and sale just right.
NOTE
This text is informative in nature and should not be considered an investment recommendation. It does not express the personal opinion of the author or service. Any investment or trading is risky, and past returns are not a guarantee of future returns. Risk only assets that you are willing to lose.