Best fiat onramp for Sunflower Land
How to buy Sunflower Land with a credit card
How to Buy SFL Token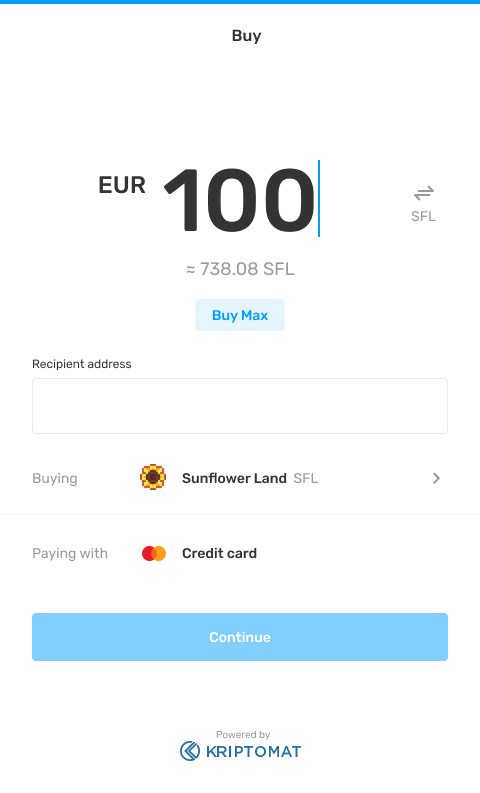 About Sunflower Land
Player Base: More than 110,000+ PLAYERS
Genre: MINIGAME, MINING, SIMULATION
Device: WEB
Blockchain: POLYGON
Status: BETA
What is Sunflower Land?
Sunflower Land is a play-to-earn farming game in which players grow crops, take care of livestock, and gradually build up the value of their farms. This metaverse-style game includes options to expand land holdings. Players burn natural resources to craft new items for their farms.
In-game items are implemented as functional NFTs. You collect stone, iron, and gold to mint tools and structures to help you build your farm. For example, adding a chicken coop NFT to your farm triples your egg production rate.
Everything you plant, chop, harvest, mine & craft is implemented as an NFT.
The Sunflower Land team used ERC 20 and ERC 1155 standards for the tokens, which means they can be traded at secondary markets like QuickSwap and OpenSea.
Sunflower Land is sufficiently complex to reward strategic play. For example, crops ripen in periods ranging from one minute (sunflowers) to seven days (kale). Food tokens can be combined in kitchen recipes, which can be used to unlock new fields and discover new kinds of seeds.
While you can play Sunflower Land without acquiring any crypto first, you must have a wallet to receive and store any NFTs you earn during play.
Current Price Data
Sunflower Land Price
Low:
High:
How to Buy Sunflower Land (SFL) Tokens Now
1. Set up a MetaMask wallet
MetaMask is a crypto wallet that is implemented as a browser extension on PCs and an app on mobile devices. Visit metamask.io and select "Download" and you will receive the proper version for the device you are using. Follow the instructions to complete the installation. Create a wallet and password. Connect your wallet to the Polygon blockchain.
Use the Account Details menu on MetaMask to display the numeric code that is your MetaMask Polygon wallet address.
2. Purchase MATIC tokens at Kriptomat
Use the tool on this page to purchase MATIC. Use your MetaMask Polygon wallet address as the recipient. Visa and Mastercard support means you can complete this process in minutes.
3. Swap the MATIC for SFL at QuickSwap
Navigate to QuickSwap, press Connect, and select MetaMask.
Follow the directions at QuickSwap to purchase SFL tokens with the MATIC you have transferred into your account.
4. Play SunflowerLand
Now that you have tokens, you have full access to all the features of Sunflower Land.
Good luck with your garden!