Best fiat onramp for Farmers World Wood
How to buy Farmers World Wood with a credit card
How to Buy FWW Token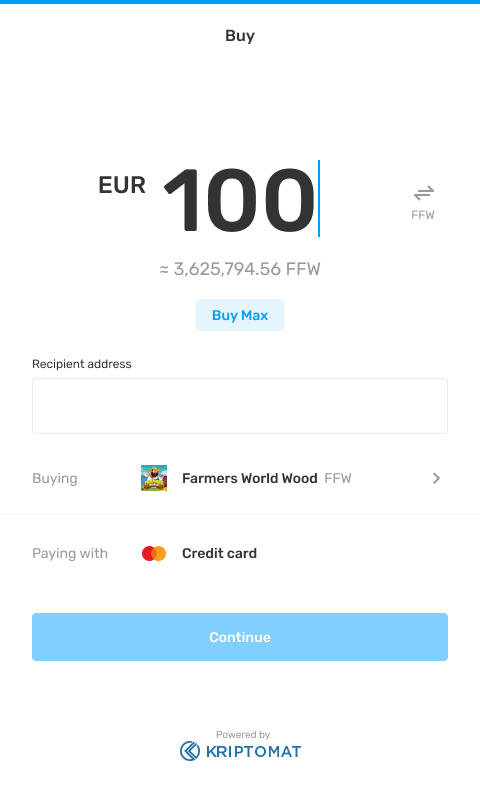 About Farmers World
Player Base: More than 265,000+ PLAYERS
Genre: BUILDING, MINING, SIMULATION
Device: WEB, ANDROID
Blockchain: WAX
Status: LIVE
What is Farmers World?
Farmers World is a Sims-style play-to-earn simulation game in which players establish farms, raise livestock, grow crops, and mine resources.
The game is based on three key resources: wood, food, and gold. Each is represented by a different NFT token: Farm World Wood (FWW), Farm World Food (FWF), and Farm World Gold (FWG).
The tokens can be purchased, traded with other players, or earned by playing the game.
As the game progresses, players trade the tokens they have earned for advanced tools that allow them to mine new tokens more efficiently. An element of randomness is provided by jungle monsters that arrive unpredictably to destroy farms, cattle, and trees.
Current Price Data
Farmers World Wood Price
Low:
High:
How to Buy Farmers World Wood (FWW) Tokens Now
1. Purchase WAX at Kriptomat
Kriptomat is the fastest, easiest way to start your Farmers World journey. It's easy to buy WAX (WAXP) at Kriptomat. Simply create your free account, complete the quick account verification procedure, and make the purchase. Visa and Mastercard support means you can complete this process in minutes.
2. Set up a WAX Cloud Wallet
It's easy to set up a wallet by visiting the WAX Cloud Wallet website. Follow the instructions to complete installation. Create a wallet and password.
3. Transfer WAXP from Kriptomat to your WAX Cloud Wallet
Use the Account Details menu on your WAX wallet to display the code that is your WAX Cloud Wallet address. It ends in ".wam."
4. Connect Your WAX Wallet to the Alcor Exchange
Navigate to Alcor Exchange and select "Connect Wallet" to connect your WAX Cloud Wallet.
5. Purchase Farmers World NFTs
You can swap WAXP tokens for Farmers World Wood – FWW – at the Alcor Exchange. Once you have the tokens, you're all set for full access to all the features of Farmers World.
Good luck to you – and watch out for jungle monsters!