The growth of your blockchain-based game, DeFi service, crypto utility, or other project is blocked.
To take advantage of the services you offer, your customers must establish themselves as crypto owners on the blockchain.
That's where KriptoRamp comes in.
The Kriptomat KriptoRamp widget is a simple way for your company to onboard users. It gives your customers an opportunity to enter the exciting cryptocurrency world – and access your services – without leaving your website or app.
Simply install the widget with a few lines of code and Kriptomat will do the rest, from enforcing identity verification rules and supporting buyers in 20+ languages to sending you a percentage of transaction fees.
Simplicity in action
How easy is it to add KriptoRamp to your website? This easy: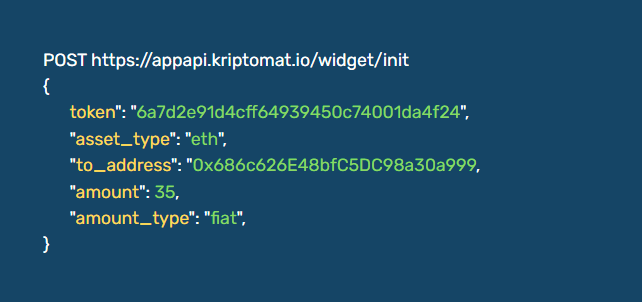 Surveys show that in Europe and around the world, consumers are eager to take advantage of cryptocurrency and Web3 services. But they lack a simple way to buy crypto and establish a presence on the blockchain.
KriptoRamp allows you to offer users in Europe and around the world the convenient, simple, reliable access to your Web3 apps and services.
KriptoRamp is available to customers in 70+ countries. Customers can make purchases in euros, USD, GBP, BGN, HRK, CZK, HUF, PLN, SEK, TRY, RUB, CHK, NOK, RON, or DKK using Mastercard, Visa, or SEPA bank transfer.
Kriptomat is responsible for all matters related to compliance for crypto and fiat payments, including KYC, AML, and fraud monitoring. We even handle chargebacks.
An ideal solution
With 250+ cryptocurrencies available, Kriptomat KriptoRamp is the ideal solution for your customers and your business.
Offering this convenient crypto onramp to users is easy. Just install the widget and let us know how you would like to receive your monthly commission payments.
Take a look at our simple installation instructions to get started.
NOTE
This text is informative in nature and should not be considered an investment recommendation. It does not express the personal opinion of the author or service. Any investment or trading is risky, and past returns are not a guarantee of future returns. Risk only assets that you are willing to lose.