Security, Transparency and Simplicity are the core values of our company, and we're doing what we do because we believe every household should (and will) use cryptocurrencies. We are part of an industry that is still being formed, where the ecosystem is still "under-construction" and where we are seeing an ongoing "cat-and-mouse" game between regulators and crypto industry. Sadly, this process inevitably involves scams, Ponzi schemes and frauds happening with ICOs and also exchanges. 
We can all agree that there is no such thing as 100% security, so every business is exposed to potential criminal activities. That is why every fintech and crypto businesses should be applying different layers of organizational and technical measures to ensure all the threats to which their platform is exposed to are properly mitigated. That is why we are doing our best to create a secure environment for our users, so they can feel secure and confident when using it on their mobile and desktop devices. But attacks and hacks can still happen to crypto exchanges, just like they can happen to every other financial institution. 
However, there are things that should not be happening. Last month we have read articles mentioning cases from exchanges like Goxtrade, Bitsane, BiteBTC, Coinroom and a few others that we find hard to understand. The news report that exchanges vanished overnight with users' funds, services stopped working, withdrawals of funds got blocked, wallets were emptied, support was non-responding, websites disappeared overnight together with all company and team member social media profiles. This is very bad for the users as they are losing their money, and it sure is bad for trust in crypto exchanges and cryptocurrencies in general.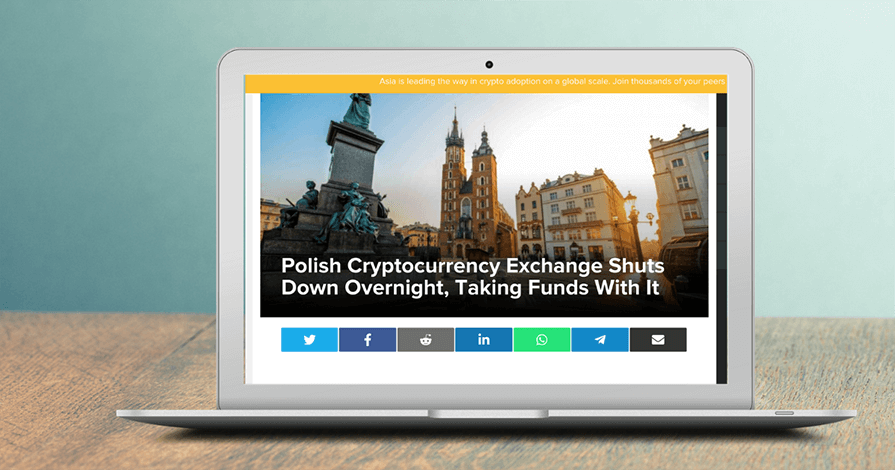 These scams happen only because of the people using the service!
The so-called cryptocurrency scams happen only because there are users' funds that can be stolen. These same users are looking for a safe place to get and keep their cryptocurrencies and they trust the services with their funds. 
Some of these users often look for services with easy on-boarding and instant trades, anonymous accounts and transactions, no KYC and no regulation. They might also look for services with low or zero fees, while others might just see some ads or fake stories promising high profits. 
But the same users can help prevent future cases of exchange scams by taking better care of who they trust with their funds. Cryptocurrencies are valuable assets and when it comes to that, there is a need for regulation and an ecosystem that distributes risk and defines the rules. We all need to understand that regulation is not a bad thing and is there to protect the users and the industry at large.
This is why there are countries that have legal frameworks to regulate cryptocurrency-related businesses and there are other countries that are following in their footsteps. It is clear that they are slow in doing that and sadly they are not keeping pace with the development of companies like ours. What we are seeing is that they are reacting only after things go wrong. But the progress is being made.
10 Things you can do to avoid scams
We've prepared a list of things every person who is entering into the world of cryptocurrencies should do, before trusting the service and the company behind the service. Honestly speaking, these things are nothing special or specific for blockchain businesses but are rather to be seen as common sense. In this globally connected world one would expect that everyone does their homework before transferring their value to someone else. 
We strongly suggest that you do your part in helping to prevent cryptocurrency exchange scams and do your "homework" when considering trusting your valuable assets or money to an exchange.
1. Check the company running the exchange and verify the information
Carefully check the website and try to find information about the company running the service. Look for a company name, address, registration number, and (optionally) VAT number. This data should not be hidden in the Privacy policy or Terms of Service, but should be clearly visible and easy to find in the "contact" or "about" sections of the website. 
Some people might find it hard to work with companies that are established in countries considered as a tax haven or countries they have never heard of before, i.e. Isle of Man, The Cook Islands, Cayman Islands, etc. 
When you find the info about the company you can go on and verify that information. Most of the countries in the EU have a public company registry database where you can verify the company data and check if the company actually exists, is actually working, who are the managers, etc. In the case of Estonia, you can check out the following website: https://www.rik.ee/en/e-business-register.
2. Check the licenses
Not many countries have a clear legal framework and regulation on cryptocurrency exchanges. Countries like Lichtenstein and Estonia have that since 2018 and the registries of regulated entities are public (https://mtr.mkm.ee/). Some exchanges do not have crypto licenses, but instead, have licenses from the financial sector, i.e. e-money license. Look for a website where these licenses are shown and check for public registries to verify them. If a company has a license, it proves that they have invested efforts into getting them and they need to follow specific regulations and internal procedures to keep them. Licenses mean trust and maturity of the company. 
When we were in the process of getting licenses for Kriptomat there were several things we had to prepare and we had to take organizational measures to get them. One thing we can mention. Part of the application is that all members of the board needed to prove their clear criminal record. From that, we decided that every team member needs to get an official statement about a clear criminal record to ensure that we have team members we can trust. 
3. Check the team
Companies do not run by themselves, but they are run by a team of people. Search the website for information about the team and look for their expertise, experience, and past businesses. In some cases, we've seen businesses being run by inexperienced individuals with a lack of responsibility and sometimes they were too young to be trustworthy. 
4. Check the internet and social media
Check the social media channels of the company/service and see how they communicate with their community. Look for what other users have to say about the service and post questions to those people. If a cryptocurrency exchange is a company from Europe and serving mostly Europeans with EUR and you see that most of the followers are from India or Indonesia, then there might be something wrong there.
Use the channels where you can directly get in touch with the team, i.e. Telegram, Twitter, Facebook, and post questions to ensure your doubts get the right answers.
5. Check the customer support
Support is very important when it comes to internet-related businesses. We suggest you contact their support and get your questions answered. Test the average response time (during working hours) and make sure there are actual people there, that will help you afterward. A reliable and responsive support team can be an indication of reliable service. 
6. Find clear Terms of Service and a Privacy Policy
Terms of Service (TOS) and Privacy Policy are often marked as "things our lawyers want you to read" but understand that those things are written to protect you and the business. Every reliable cryptocurrency exchange service should have clear TOS where they state what are the terms under which the service can be used. Coming from our experience you can trust us when we say that the TOS can not be only one page long and I would never trust my money to a service without TOS.
Cryptocurrency exchange needs to and will get access to lots of your private data. If they are regulated, they will require even more of that. Make sure your data is protected and that it is stated in the Privacy policy. It is easier to trust and EU business as they need to follow a strict GDPR where your rights are clear throughout the entire European Union. 
Make sure you feel safe with who you share your data.
7. Test the funding options
Once you decide to open an account and you pass the verification process we strongly suggest that you test the funding options to make sure everything works as it should. Try the deposit options with smaller amounts of money to see if your money will be processed as expected. After depositing, try to also withdraw the money to your bank account to make sure you can receive it as expected. 
Please note that some exchanges might have additional verification needs to process Fiat currencies (i.e. proof of funds and/or wealth, proof of residence).
8. Test the wallet service
If the exchange service offers a custodian digital wallet we strongly suggest testing how it works. Try to deposit a smaller amount of your bitcoin or other supported currency and also make sure to test the withdrawal option after you buy bitcoin. 
Some users feel safe when they have their crypto assets on their external wallets and want to take it away from the exchange to lower their risk. We all know the saying "not your keys, not your crypto". On the other hand, there are users that find external wallets too complex and non-user friendly and they like to keep their crypto assets with an exchange. This is also fine as long as you can access your funds at any time. That is why we suggest you test the withdrawal as well.
9. Look for transparency
You need to feel in control of your funds and have a clear overview of transactions. You should never use a service that does not have a clear fee structure that you actually understand. Make sure that the fee for every transaction is clearly stated before you confirm it and there are no hidden extra charges that you do not understand.
Also, we strongly suggest you check the process of the cryptocurrencies. A 0% fee can sometimes mean a 5% higher price of bitcoin. We strongly suggest you check the prices and make a benchmark with competitive services. In some cases, you might be surprised by what you will discover.
10. Use common sense
Following all the points above will help you get valuable information and make an educated decision on who to trust and who not to trust. Most of all, use your common sense. We do not suggest to trust promises on easy money, high returns, etc.
Help us improve the image of the cryptocurrencies sphere, build the trust and try to prevent scams and Ponzi schemes. Avoid working with services that should not be trusted.
If it looks like a duck, swims like a duck, and quacks like a duck, then it probably is a duck.
NOTE
This text is informative in nature and should not be considered an investment recommendation. It does not express the personal opinion of the author or service. Any investment or trading is risky, and past returns are not a guarantee of future returns. Risk only assets that you are willing to lose.