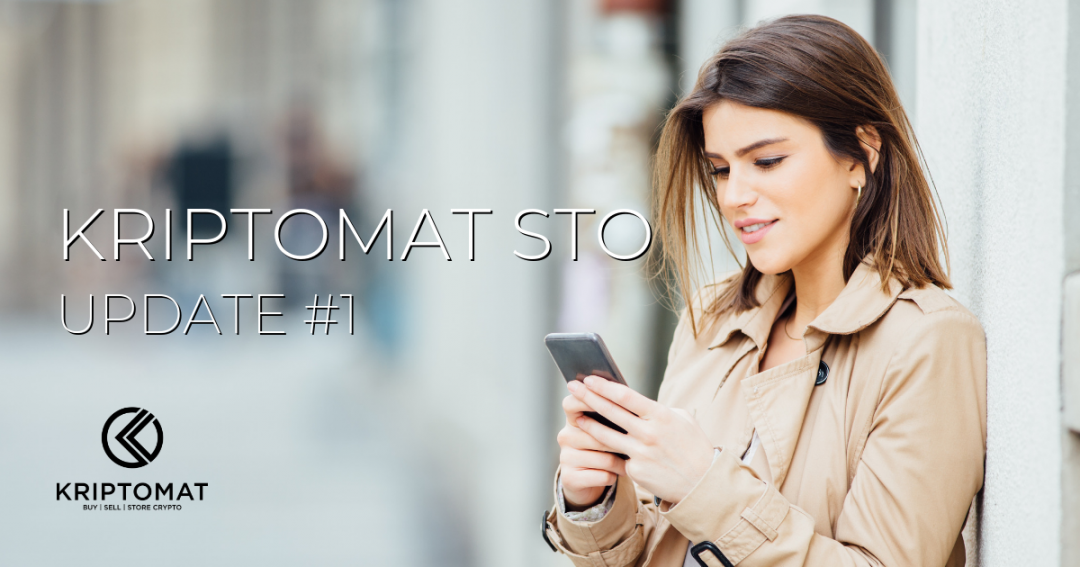 It sure was an exciting week, especially with so many things happening for us as well as the crypto world in general. For example, AT&T, the world's largest telecommunications company, will become the First Mobile Carrier to accept payments in cryptocurrency. Also, Bitcoin kicked off the week with another spike in its price, surging beyond 8,000 euros as the valuation of the crypto market rose by about 100 billion euros in just one month.
STO Updates
The project that we worked on so hard over the last couple of months finally kicked off on May 22nd, with the opening of the payments for our Security Token Offering. Kriptomat is now getting its first investors, and we couldn't be more grateful to each and every investor for their interest and support.
However, we are still witnessing a lack of understanding around what security tokens are all about because some people find it hard to distinguish between an STO and an ICO. While ICOs were encouraging people to make investments based on ideas and promises, we want our supporters to make an educated investment decision when they choose our STO. This is why we will continue educating the community and sharing our story.
In our discussions with future investors, we also found out that it would be great if we could offer financial projections with our business metrics. This was ready even before the STO launch, but we were not able to disclose the information due to regulations. You see, an STO is based on a clear legal framework that protects each investor. Our financial projections, made based on our current business analytics, is now being reviewed by the auditor. After the data is audited, we will share an investment simulator that will show projections of your investment in the upcoming years.
Learn more about our Security Token offering and how to participate. 
Event Updates
Having members of our team attend events where they can share their expertise and talk freely with the community has proven to be a great success. Don't worry if you've missed us, we still have plans for live web sessions, but we will seek out more opportunities to actually meet you in person as well.
One of those opportunities came last week when our CBDO, Dejan Davidovic, attended the Fintech Adria Conference in Rovinj, Croatia. He delivered a keynote speech on the Blockchain stage covering the topic of raising funds for a startup. He also met up with Ethan Pierse and recorded a great educational interview on the subject of Tokenised securities and their benefits for investors and startups.
Srdan Mahmutovic (CEO), Jaka Erjavec (CTO) and Mina Krzisnik (CLO) attended an event in Ljubljana that was organized by the team from Eligma. We got a chance to meet one of the most influential people in the crypto sphere, Roger Ver from Bitcoin Cash.
There will be more events and meet-ups during the next couple of days. You will be able to catch up with our team and learn more about our business and STO! The events and their dates are listed below.
Join Us!
Blockchain Think Tank Slovenia – Fintech group meet-up
Thursday, May 30th, 17:30, ABC HUB, BTC, Ljubljana
Crowdfunding talk in Klaipėda
Tuesday, June 4th, at 18:00, Light House Coworking Klaipėda
Crowdfunding talk in Kaunas
Wednesday, June 5th, at 18:00, Nacionalinis inovacijų ir verslo centras
Crowdfunding talk in Vilnius
Thursday, June 6th, at 18:00, Rise Vilnius
More events TBA soon!
NOTE
This text is informative in nature and should not be considered an investment recommendation. It does not express the personal opinion of the author or service. Any investment or trading is risky, and past returns are not a guarantee of future returns. Risk only assets that you are willing to lose.