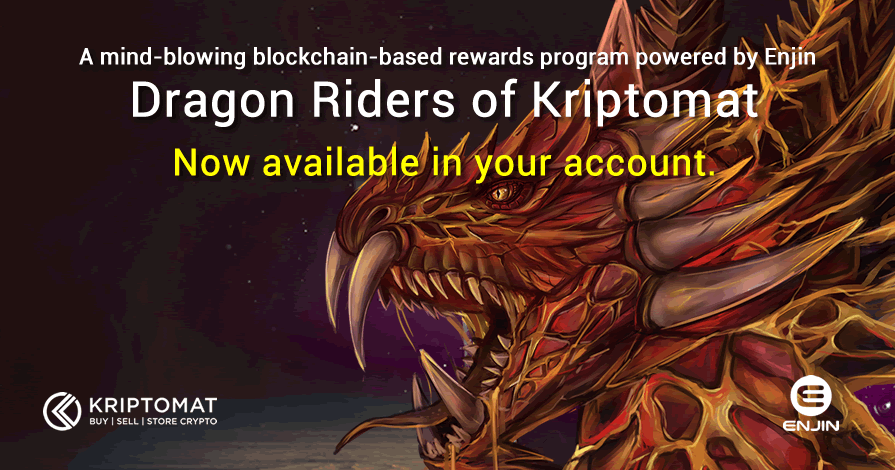 There are very few times in life where you find yourself in a position to become a part of history. Blockchain is a tectonic shift in the way we view digital value, which means forward-thinking developers in this space have the unique opportunity to create world-first innovations.
We are proud to be part of this era of entrepreneurs, and we hope our innovations can help change the digital world for the better.
Today, we are proud to present The Dragon Riders of Kriptomat: The world's first gamified blockchain rewards program.
The Dragon Riders of Kriptomat
At Kriptomat, we believe assets are much more valuable when they are on the blockchain.
Blockchain assets can be stored safely for a lifetime, sold and traded for money or cryptocurrency, and used in multiple apps and games, making them much valuable than ordinary reward points.
With our new rewards program, we aim to give our loyal users the most incredible blockchain-driven experience possible, which is why we have created the most robust rewards program the blockchain has ever seen.
With Kriptomat rewards, you will be able to save cryptocurrency, play exciting games of chance, craft and collect valuable blockchain items and use them with over 20 of our gaming partners.
There has never been a rewards program quite like this before.
For a full understanding of this mind-blowing rewards program, watch our CEO Srdan Mahmutovic as he takes us through the entire program.
The Gaming Multiverse
Last year, our friends at Enjin founded the gaming multiverse, a network of games that support shared gaming items.
It utilized the inherent interoperability of blockchain assets to enable gamers to move through multiple games, apps, and websites, using their valuable items everywhere they go.
We are working with these game developers to make sure our rewards are as valuable as possible, by making them playable in over 20 incredible games.
Here is a look at a few of the games that are supporting our assets.
Forgotten Artifacts
Forgotten Artifacts is the ultimate PvE dungeon crawler action-adventure game. You will discover chests within dungeons of despair. Hack and slash your way through the dungeons on your quest for loot. Each chest you stumble across is a chance at discovering some of the rarest artifacts in the universe. Forgotten Artifacts is currently in pre-alpha development. The game is already playable and has blockchain item drops.
Use your Kriptomat rewards in Forgotten Artifacts right now!
Age of Rust
Age of Rust is a dark sci-fi adventure game set in the vast expanse of the universe. You'll explore abandoned space stations, mysterious caverns, and ruins on far away worlds. On the way, you'll unlock puzzles and secrets to light the way forward. The upcoming 3D RPG game is expected to launch in late 2019 by SpacePirate Games.
Forest Knight
Forest Knight is using the Blockchain SDK by Enjin to implement and manage next-generation blockchain assets that users can trade on decentralized markets, hold securely in their blockchain wallet, and melt them down to retrieve the Enjin Coin (ENJ) within if they so chose. Many of the in-game assets available in the world of Forest Knight are actually cryptocurrencies far more advanced than Bitcoin, Ethereum or even the Enjin Coin they are made out of.
9Lives Arena
9Lives Arena is the first RPG with a clear focus on 1on1 fantasy PvP. It gives you full freedom of character template creation. You can choose your bloodline, stat distribution, weapon art, select a unique Spirit Animal, and train your choice of unique abilities out of a wide range of available skills.
War of Crypto
War of Crypto is a Mobile & Browser Player vs Player (PvP) multiplayer game that features unique, evolvable, tradeable heroes, set in an incredibly detailed epic fantasy world facing a relentless, imminent doom. The game is currently under development by Lucille Games using Unity Engine.
https://twitter.com/WarOfCrypto/status/1097610739144146945?s=20
What's Next?
The Dragon Riders of Kriptomat is the first step in creating the world's most robust rewards platform in the world, Reewardio.
Entrepreneurs and businesses across the globe will be able to create their own version of our rewards program and customize it to their needs.
If you own a business, you can utilize the available Reewardio templates and completely customize them to suit your brand and vision.
This means you will be able to:
Create blockchain-based game credits, crafting ingredients, and collectibles.
Precisely select what actions your customers need to take to acquire game credits.
Modify the drop rates of crafting ingredients and resources within games.
Choose the recipes and blueprints that allow users to craft collectibles.
Decide what discounts and rewards customers can obtain by owning certain collectibles, as different collectibles will unlock specific discounts and rewards.
Customize the branding of the rewards platform to integrate it into your existing websites seamlessly.
We are building an industry-agnostic solution.
From retail to education and beyond, we want anybody to be able to use this platform to reward anyone for anything.
***
The Dragon Riders of Kriptomat is live and ready.
Start trading today to earn your rewards, we hope you enjoy this experience we've crafted for you.
NOTE
This text is informative in nature and should not be considered an investment recommendation. It does not express the personal opinion of the author or service. Any investment or trading is risky, and past returns are not a guarantee of future returns. Risk only assets that you are willing to lose.