Ripple is currently the third biggest cryptocurrency with a market cap close to 12 billion euros. It was built to enable fast, scalable, secure and virtually free cross-border payments. It was originally created for banks and regulated financial institutions, but it can be used by anyone.
Larger corporations are integrating Ripple into their systems in order to reduce transaction costs and increase their speed. One of Ripple's main philosophies is to build a global system on the Internet to instantly transfer value without a middleman. In essence, Ripple wants the money to move as freely as information.
Table of Contents
Ripple Basics
Ripple provides a revolutionary solution for banking payments. To be more specific, the traditional banking system handles cross-border payments through a procedure that takes up to 5 days. Ripple makes real-time transactions viable. Real-time global payments across 27 countries with end-to-end tracking and certainty.
To understand how Ripple works and why it is a game changer, just consider that the Ripple Network supports transactions that are processed in four seconds. Ethereum and Bitcoin can take a couple of minutes. 
It's important to note that Ripple is not a startup company. Ripple Labs, the company behind Ripple, is already backed by the largest financial corporations worldwide. 
"Built for enterprise use, XRP offers banks and payment providers a reliable, on-demand option to source liquidity for cross-border payments." – Official Ripple website.
The concept of Ripple goes back to 2004 when Ryan Fugger decided to create a monetary system that was decentralized and could effectively empower individuals and communities to create their own money. In 2011, Jeb McCaleb (co-founder of Ripple) started developing a digital payment platform where transactions were verified between members of the network, rather than via the mining process (Proof of Work) used in Bitcoin.
It's safe to say that Bitcoin, Ethereum, and Ripple are the three most popular cryptocurrency projects, but there is almost no comparison between them in the technical sense. Bitcoin is almost purely just a digital currency, and Ethereum is a platform for developing smart contracts. Ripple, on the other hand, is a payment system targeted towards international financial transactions.
Ripple helps Banks and financial institutions move tons of money around the world in no time. This leads to more and more payment providers coming on board and investing or using the Ripple Network. Currently, more than 200 institutions use the ecosystem and some of them are… large banks. The picture below includes some of them, but check out the official site of Ripple Labs to see all of their customers.
Ripple also deals with the scalability issues most cryptocurrencies can't solve. XRP can handle 1,500 transactions per second. This is 100 times more transactions per second than Ether and more than 250 times more than Bitcoin. XRP can also scale to handle the same transaction throughput as Visa.
The whole Ripple Network works through running the Ripple Protocol Consensus Algorithm every few seconds. I'm not going to get into technical details but the point is that using this algorithm doesn't require miners, so Ripple solves the energy consumption problem too!
Last but not least, the fact that the Ripple platform has been live since 2012, enabling more than 34 million transactions without ever having a major issue, is undeniable proof of its robustness.
Ripple Labs was founded in 2013 (originally named Opencoin) in San Francisco, California. It has received investing funds from all over the world and opened offices in the largest financial hubs (San Francisco, New York, London, Sydney, Mumbai, Singapore, Luxembourg). They have received prestigious awards such as:
February 2015 — Fast Company. The World's Top 10 Most Innovative Companies Of 2015 In Money.

February 2015 — American Banker. 20 Fintech Companies to Watch.

August 2015 — Ripple Labs Awarded as Technology Pioneer by World Economic Forum.

December 2015 — Forbes. Fintech 50.

December 2015 — H2 Ventures, KPMG. Fintech 100.

March 2016 — PYMNTS Innovation Project 2016. Best B2B Innovation Award.

June 2016 — Fortune. 5 Hottest Companies in Fintech.
Understanding Ripple Technology
In order to understand how Ripple helps financial institutions, you need to understand how the Banking system works on a global scale. Let's say you live in France and want to send money to your friend in England. You go to your bank to initiate the payment and the bank employee informs you that it will take a couple of days. Have you ever thought about what happens during this time? Why can't cross-border transfers be done instantly online?
The traditional banking system handles cross-border payments mostly via a chain of bank payments from the payer's account to the recipient. The protocol used for this procedure is called SWIFT (The Society for Worldwide Interbank Financial Telecommunication), which was founded in the 1970s. It is an archaic system that desperately needs to catch up with the technologies of the 21st century. The most evident problem with SWIFT is that cross-border payments are really slow, taking three to five days.
What if we could do this in seconds? So using the SWIFT payment system the bank initiates the payment. Apart from the fact that this takes several business days, as noted above, there are multiple stakeholders who get a cut from this. To make this extremely clear, every bank payment made between banks, until the money is in your friend's account, requires a fee. So if you want to send him 100 EUR you will probably have to spend around 105 EUR. For a simple bank transfer in 2019.
The banks using the Ripple cryptocurrency can gain liquidity on demand in real time without having to pay transaction fees. Your bank can convert 100 EUR into XRP (the abbreviation for Ripple coins used in the ecosystem), stored in the bank's ripple address, send them to your friend's bank ripple address instantly through the ripple network and finally the UK bank can convert ripple coins to pounds into your friend's account. Instantly, securely with almost 0 fees. A payment that used to take days is finished within seconds.
Ripple Protocol Consensus Algorithm
"Consensus is the community resolution when opposing parties set aside their differences and agree on a statement that is agreeable to all, even if only barely."  – Wikipedia
Every decentralized payment system needs an algorithm which ensures that consensus is achieved. Put simply, cryptocurrencies need to have specific procedures built on them to make sure that their ecosystem works properly and securely. Bitcoin uses an algorithm called proof of work to reach consensus while Ripple Labs has created its own algorithm called Ripple Protocol Consensus Algorithm. 
Major advantages of Ripple
There are four key advantages that set Ripple apart from most of the other cryptocurrencies:
Ripple enables real-time cross-border transactions. As we discussed above, traditional systems take up to 5 days while XRP completes transactions in a matter of seconds.
Since 2012 Ripple has enabled more than 34 million transactions and never had an issue. Seven years are more than enough to test whether a system is stable or not. Especially when the platform is live 356 days per year.
Scalability is one of the biggest issues in most cryptocurrencies. Bitcoin has lost a huge amount of audience due to its failure to scale consistently. Even ethereum, which is maybe the cryptocurrency with the largest community of researchers and developers on scalability, fails to find a viable way to scale. On the other hand, XRP can handle 1,500 transactions per second. This is 100 times more transactions per second than Ether and more than 250 greater than Bitcoin. XRP can also scale to handle the same transaction throughput as Visa.
The consensus algorithm created by Ripple Labs doesn't include mining in order to work. It's been estimated that Bitcoin uses nearly as much electricity as all of Ireland. The Ripple Cryptocurrency solver this energy consumption problem as well!
Ripple Labs — Major Investors
Ripple was built for enterprise use with the purpose of helping Banks and financial institutions move tons of money around the world in no time. This leads to more and more payment providers coming on board and using the Ripple Network. Currently, more than 200 institutions use the ecosystem. Here is a list of some of their biggest clients:
MUFG Bank

Santander

MoneyGram

CIMB Bank

American Express

Itau

Standard Chartered

SABB

Al Rajhi Bank
Is Ripple Decentralized?
First of all, Ripple never meant to be a Bitcoin-like system. Cryptocurrencies always aimed to eliminate centralization, so it might seem a bit contradictory that Ripple Labs holds more than half of the total 100 billion XRP that will ever exist. They state that "Jurisdiction or network specific rules, governance, standards, and other critical functions are intended to be provided by existing systems and operators", which means that there is always some level of centralization even if the net effect is actually a very decentralized system. For example, there are some question marks over Bitcoin's decentralization due to the fact that so much of the Bitcoin mining is being carried out in China.
In December 2017, Ripple placed 55 billion XRP into a cryptographically-secure escrow to create certainty of supply. A contract has been put in place which releases 1 billion XRP into the market each month. As a result, Ripple Labs can't crash the price by flooding the market with XRP.
"Ripple is not centralized. To be clear, if Ripple disappeared today, XRP would continue to function. To me, that's the most important measure of whether something is decentralized." – Brad Garlinghouse, Ripple CEO
How to Buy Ripple
The easiest and most common way to buy Ripple is by using an online exchange. Exchanges are online platforms where you can exchange fiat money (eg. EUR) for cryptocurrency (eg. XRP/Ripple Coin). Below is a brief overview of the buying process, but if you want a more detailed description, then please take a look at our article on how to buy Ripple.
How to Buy Ripple on Kriptomat
Apart from XRP, you can buy other cryptocurrencies as well on Kriptomat. 30 of the most used and established currencies are listed on the site. Buying XRP in this exchange is really simple and the friendly user interface helps a lot. Follow the guide below:
Visit the Kriptomat homepage and create an account by clicking one of the registration buttons. You will have to confirm your email address and phone number.
Navigate to the Buy/Sell Tab of the menu bar. In the box below you can see the list of all the cryptocoins available on Kriptomat. Click on XRP.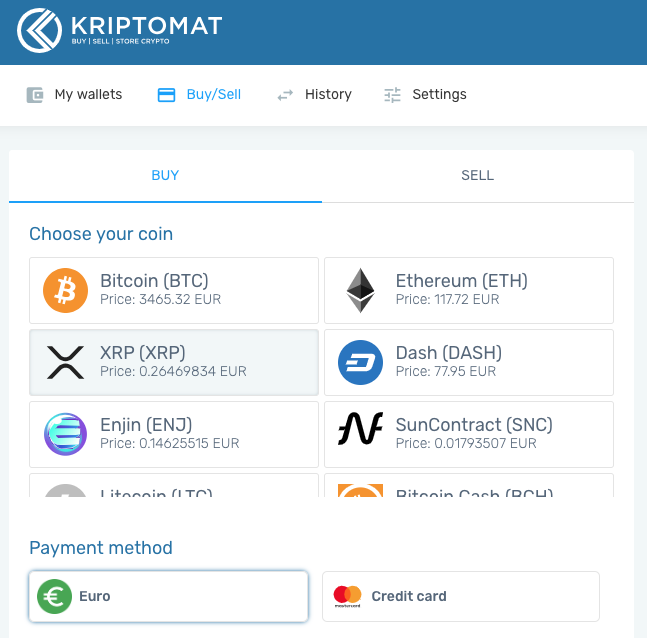 Select a payment method. You can choose between Euro purchase via a Bank transfer and a direct Credit Card purchase.

Enter the amount of EUR you want to spend and the site will automatically convert it to XRP. The click on the Buy button.

On the right-hand side of the screen, you will see the "Confirm Transaction" box. Review the transaction and confirm it when you are sure that everything is okay. 

Now you just need to wait and soon you will see your first XRP in your wallet. You are officially a holder of the XRP cryptocurrency!
Conclusion
"Ripple certainly has the potential to move up a notch in 2018, but I think it will be more likely in 2019. As the market observes more projects being coded in other algorithms such as XRP, ETH will likely take a backseat to the next big coin/token. It will take some time for the markets to digest this, so I am projecting 2019 to be the likely time for it to take place. Of course, with crypto, anything can happen, so watch closely." -Roman Guelfi-Gibbs, CEO and Lead Systems Designer for Pinnacle Brilliance Systems Inc
Sign up for our newsletter