Kriptomat
Web3 Wallet

for Forest Knight

Playing Forest Knight has never been more simple! All your game play, tokens and NFTs in one place!

Trusted by

400,000+

users across Europe
Unlock the Potential of Forest Knight with Your Kriptomat Wallet!
Simple Connection to Forest Knight
Connect and Play Forest Knight directly from your Kriptomat Web3 wallet or with WalletConnect however you prefer.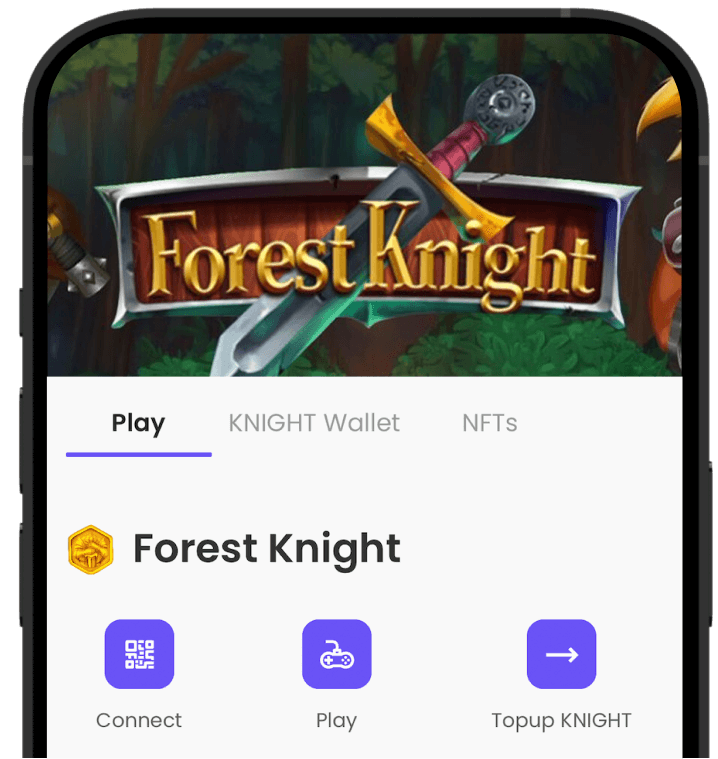 Buy KNIGHT With Card
The only Web3 wallet where you can directly purchase KNIGHT tokens with Euros, supporting all the most popular payment methods.
Buy and Store your Forest Knight NFTs
Easily collect, store, buy and sell your Forest Knight game NFTs all within your Kriptomat Web3 wallet.
Sell your KNIGHT to Euros
Ready to cash out your KNIGHT tokens? The Kriptomat Web3 Wallet allows you to sell your tokens directly to Euros in seconds!
How to start playing Forest Knight?
Begin your journey by downloading the Kriptomat app from your favorite app store. Create an account and complete the verification process to unlock the full potential of the Kriptomat Web3 Gaming Wallet.

Visit the Web3 Directory and Find Forest Knight?

Open the Kriptomat app and go to the Web3 directory to discover thousands of Web3 games, search for the Forest Knight dApp and select "Open game wallet".

Connect to Forest Knight?

Within your Forest Knight game wallet, visit the play tab and hit "connect". This will establish a connection between your Kriptomat wallet and the Forest Knight game.

Top Up KNIGHT Token with Your Card

Buy and sell KNIGHT tokens directly with Euros using your credit or debit card and other payment methods, all within the safe and secure Kriptomat Wallet. NO MORE SWAPS!!
One wallet for all your Web3 games
Play Forest Knight Now.