Are you interested in buying Bitcoin, but don't want to use an online service? No problem! You can use a Bitcoin ATM in many places around the world. It is a great choice if you wish to buy cryptocurrencies instantly and in a more anonymous manner. You can use the Bitcoin ATM to buy Bitcoin directly with cash or with a credit card.
You may also notice the abbreviation BTM, which stands for Bitcoin Teller Machine, and is derived from ATM or Automated Teller Machine. Sometimes it is also called a Bitcoin machine.
In this article, we will explain how Bitcoin ATMs work, and we will give you a detailed walkthrough of how to use them in order to successfully buy or sell Bitcoin.
Bitcoin ATM: General overview
People naturally have different wants and needs, so there are a lot of different ways to buy Bitcoin.
Some people are looking for security and regulation, while others are seeking anonymity and decentralization. There is no single service that would cater to everyone, so you always have to make certain compromises and really know your needs and requirements. Bitcoin ATM is a physical device that users can use to buy and sell (cashout) cryptocurrencies fairly anonymously.
Online trading platforms and exchanges are most often used in the buying process due to their ease of use and general convenience. Exchanges provide an exchange of fiat money for cryptocurrencies (i.e., fiat to crypto), while trading platforms provide a place of exchange between different cryptocurrencies (i.e., crypto to crypto).
Exchanges that provide a link between national fiat currencies and cryptocurrencies are also called fiat-gateways. The term is pretty self-explanatory as they are your gateway from fiat money to crypto. They work similarly to traditional money exchanges where you can exchange one national currency for another national currency.
Crypto trading platforms, on the other hand, work similarly to traditional stock exchanges. Some people place an order to buy a certain cryptocurrency for a particular price, and other people place an order to sell at a particular price.
Fiat currencies can mostly be exchanged into Bitcoin and Ethereum. They are then traded in pairs with other smaller coins and tokens. Smaller in terms of market capitalization and trade volume, so it doesn't always make sense to have a direct pair with euro.
Kriptomat is the only service that allows you to purchase every supported cryptocurrency directly with euro and in your language.
Cryptocurrencies usually have fewer restrictions as it is currently a more unregulated area. This is also slowly changing, although their decentralized nature is unlikely to be forced out of the system (which is, of course, a good thing).
Bitcoin ATMs represent a unique juncture between fiat money and cryptocurrencies.
Let me explain what I mean …
You see, the entire procedure of buying and selling cryptocurrencies (via credit cards and bank deposits) on traditional online exchanges is essentially still done entirely with digital assets. Bitcoin ATMs, on the other hand, represent one of the few opportunities to buy and sell cryptocurrencies directly with your cash.
We could say that Bitcoin ATMs are a cash-gateway in addition to being a fiat-gateway.
Bitcoin ATM: Locations around the world
According to the Coin ATM Radar website, the number of Bitcoin ATMs recently exceeded 4000 machines, which is certainly a positive sign for the wider adoption of cryptocurrencies.
Of course, this is still a tiny fraction when compared to conventional ATMs, but the number is increasing every day. At present time, approximately 6 new Bitcoin ATMs are opened on a daily basis.
At this point, you may be wondering: "Is there a Bitcoin ATM near me?"
Bitcoin ATM locations can be found by following this link.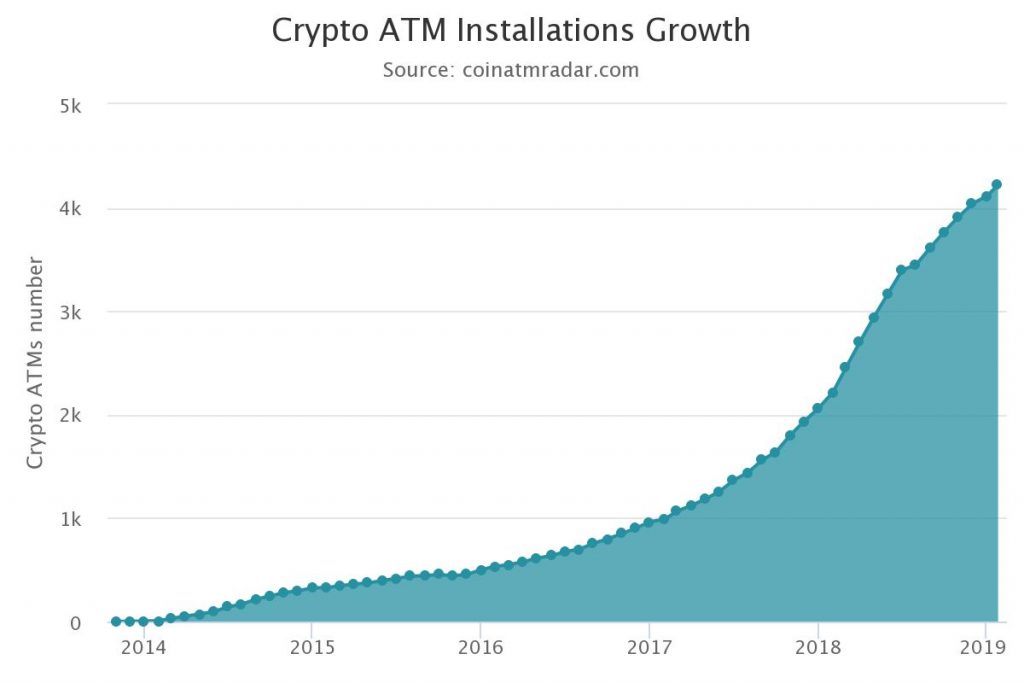 Bitcoin ATM: Buying Bitcoin
So how do you actually buy cryptocurrencies on a Bitcoin ATM? We will explain the entire procedure in a step-by-step manner. We will use Bitcoin as an example, but keep in mind that some ATMs also provide a selection of other cryptocurrencies.
Most Bitcoin ATMs operate on the same standardized procedure (just like any other regular ATM), so you shouldn't have any issues if you simply follow the generalized instructions below.
Approach the Bitcoin ATM and choose the option to

buy

.

Enter how much Bitcoin you would like to buy. Some ATMs also give you the option to choose between different preselected buying amounts. The easiest way is if you choose the option with the lowest amount (usually up to around 2,000 EUR) in order to avoid an additional step that involves identity verification

*

.

In the next step, you will need to enter a Bitcoin wallet address to which you want to receive the purchased Bitcoins. Each ATM has a

QR code scanner

, so it's best if you simply use your mobile phone and prepare the QR code of your digital wallet address

**

.

After entering (or scanning) your Bitcoin wallet address, you will need to insert cash or make a credit card payment.

Click "

Buy Bitcoin

".

Print the receipt that confirms your purchase.
And that's it! You will soon receive the Bitcoins to your wallet. Quite straightforward, don't you think? Note, however, that fees on Bitcoin ATMs are often much higher in comparison to those on online exchanges.
*Just to be clear, we aren't against identity verification at all. Our service includes it as a critical step to ensure security and to comply with the regulations. We are simply explaining the process with an example where you don't have to go through the identity verification due to the assumption that beginners will rarely make a purchase of more than 2000 EUR on their first try. Additionally, it makes the entire procedure much shorter and more easily understandable.
**If you don't have a Bitcoin wallet, you can get one for free at Kriptomat. You can also choose the option that says, "I don't have a Bitcoin wallet address". The ATM will then create a new Bitcoin wallet address for you. You can print it out on a piece of paper, which will contain the public and private keys to your Bitcoin wallet. Make sure to keep this paper extra safe!
Bitcoin ATM: Selling Bitcoin
Here you need to be aware of the fact that only 39.6% of Bitcoin ATMs support selling while 100% of them support buying.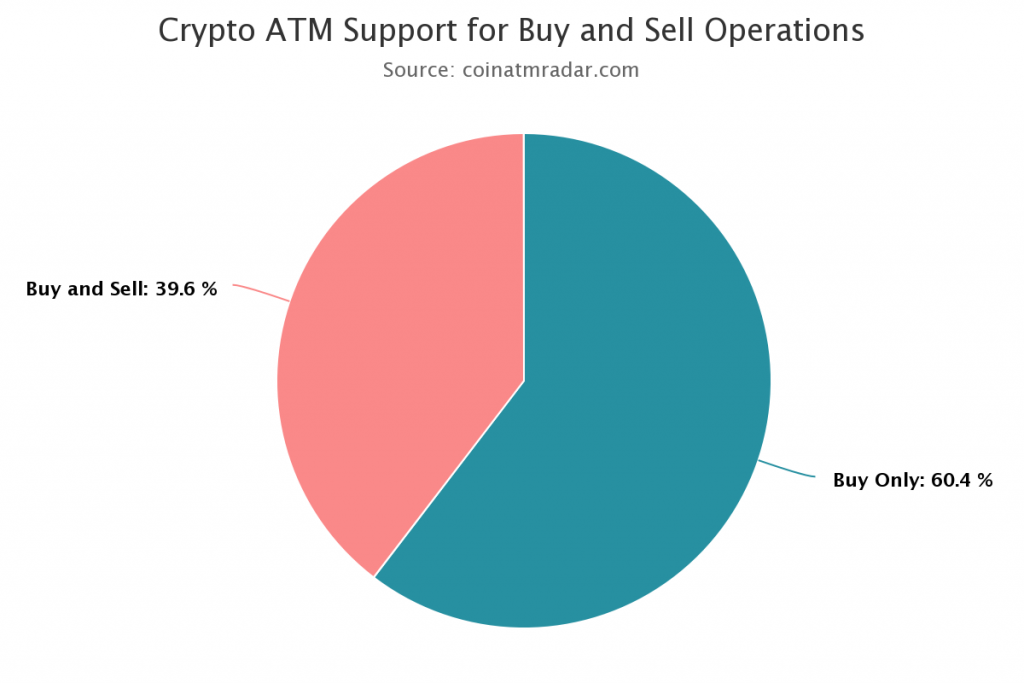 In addition, the selling process is a bit more complex as it involves more steps when compared to the buying process. We will explain the reasons below after we explain the actual process.
Select a cryptocurrency
Find the nearest Bitcoin ATM. If it supports more than one cryptocurrency, you will first need to select the one you wish to cashout/withdraw. We will choose Bitcoin (BTC).
Choose a transaction method
If the ATM supports buying and selling (some of them support only one or the other as displayed on the pie-chart above), you will have to select the option to "Sell Bitcoin".
Enter the withdrawal amount
Enter how much Bitcoin you would like to sell. As with buying, some ATMs also give you the option to choose between different preselected selling amounts. The easiest way is if you choose the option with the lowest amount (usually up to around 2,000 EUR) in order to avoid an additional step that involves identity verification.
In any case, we don't really recommend using Bitcoin ATMs for higher amounts as you will be spending too much on fees.
Getting a receipt
Once you enter the withdrawal amount, you will be able to request an SMS message that will notify you of the transaction process. We advise you to select this option and enter your phone number. The Bitcoin ATM will then print a receipt with a Bitcoin wallet address.
You will need to send Bitcoin from your wallet to this address. You can also send it from Kriptomat.
The recipient will be the Bitcoin ATM vendor, and their Bitcoin wallet address will be presented in text format and in the form of a QR code. Once they receive your Bitcoin, you will be able to make a cash withdrawal.
So why is the withdrawal procedure more complex and longer than using a traditional ATM? Why is it necessary to send Bitcoin manually? Let us briefly explain.
The blockchain works differently than traditional financial systems, so you can't just enter a card with your BTC wallet address and expect to receive money immediately. ATM vendors must actually receive your Bitcoins and then pay you the money on the basis of the current Bitcoin market price.
Regular fiat ATMs are part of a centralized system and database while Bitcoin is decentralized. This means that Bitcoin miners must process your transaction and guarantee that it was you who actually sent the funds.
Bitcoin ATM: Conclusion
We can conclude that the user experience with Bitcoin ATMs is still a bit clumsy and slightly more demanding for people who are accustomed to traditional fiat ATMs.
You need to find a physical location of the nearest ATM. Depending on your current whereabouts, this may not be such an easy task. In addition, the fees are very high.
However, ATMs are an ordinary part of our everyday life, and increased adoption of Bitcoin ATMs will be crucial for a wider acceptance of cryptocurrencies. As a result, people may soon realize that Bitcoin can become a viable currency and payment method.
NOTE
This text is informative in nature and should not be considered an investment recommendation. It does not express the personal opinion of the author or service. Any investment or trading is risky, and past returns are not a guarantee of future returns. Risk only assets that you are willing to lose.