Are you interested in Bitcoin trading? Getting ready for a time when you will want to cash out your cryptocurrencies? Or maybe you are just interested to see how the selling process works. In this article, we will explain everything you need to know about how to sell Bitcoin!
We will explain the entire process of selling and cashing out your Bitcoin and other cryptocurrencies in a step-by-step fashion. Keep in mind that the procedure is virtually the same for all types of digital currencies, but we will mostly be using Bitcoin trading as an example. We will explain different selling procedures, bank transfers, and cash withdrawals. This way you will also be able to decide which method best suits your needs.
But naturally, if you want to sell Bitcoin, you must first own some. I kindly recommend you read our article on how to buy Bitcoin.
Now let's find out how to convert Bitcoin to cash!
---
TABLE OF CONTENTS
---
Bitcoin is completely decentralized, so there is no financial institution (for example, a bank or state authority) that would manage its development and supply. Bitcoin is literally in the hands of the people. This is the fundamental difference between Bitcoin and the standard fiat money issued by governments.
Bitcoin has had a tumultuous past and undoubtedly has a very interesting future. Thus it is useful to understand the basics because — despite its growing popularity — many people still don't know what is Bitcoin, how Bitcoin works, or where to sell Bitcoin.
One of Bitcoin's main advantages is that you can use it for a Bitcoin transaction anywhere and anytime, regardless of the country in which you are currently located. You can read more about this technology in our article about Bitcoin.
Now, let's focus our attention on the main topic of this article.
First of all, what does it even mean to cash out your Bitcoin? Well, this is simply a process of selling Bitcoin for fiat currency and then withdrawing the funds to your bank account. If you want literal cash out, you can physically withdraw the money from your bank account.
Fiat currencies are conventional state currencies issued by governments. Bitcoin can be exchanged for euros (EUR) in many different ways. You can also exchange smaller amounts of Bitcoin. The smallest unit is called a Satoshi (one hundred millionth of a single Bitcoin or 0.00000001 BTC).
You also need to understand the difference between a trading platform and an exchange. Most platforms don't offer the option to deposit or withdraw euro funds. There are also the so-called fiat-to-crypto exchanges where you can do this. Kriptomat is one of them.
We will look at the different cashout methods in the chapters below.
How to Sell Bitcoin: Different Cashout Methods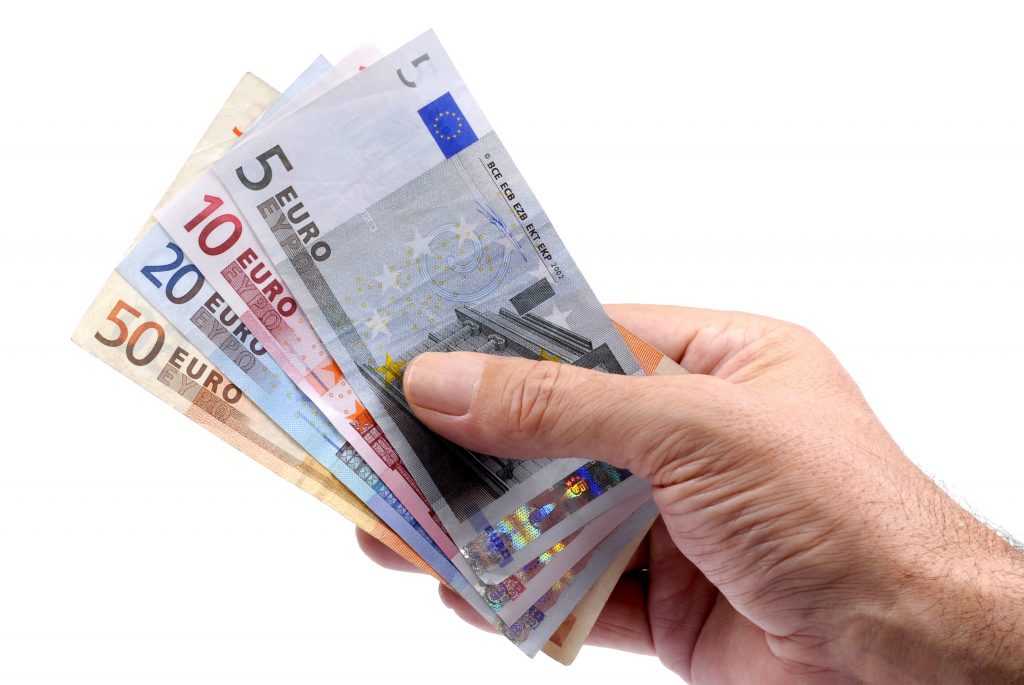 First of all, you need to be aware that you have several different options which are suitable for different needs.
What are your needs?
Do you want the

fastest

method?

Do you want the

simplest

method?

Do you want the

cheapest

method?

Do you want to transfer money to your

bank account

or do you want

cash

?

Into which currency would you like to cash out your Bitcoin?
These are questions only you have answers to, but we will help you find them.
How to Sell Bitcoin: Where Can I Sell Bitcoin?
The two most convenient methods are certainly selling via an online Bitcoin exchange and selling via the Bitcoin ATM. We will take a closer look at both options.
Sell Bitcoin using a web exchange
The easiest way to sell Bitcoin is by using an online Bitcoin exchange. Naturally, we recommend using the Kriptomat platform.
We will explain the entire selling procedure on the example of using our service. The registration process is extremely easy, and you can also use a mobile Bitcoin app which is available for use on Google Play for Android devices, as well as on the AppStore for Apple iOS devices.
Kriptomat allows you to sell Bitcoin for euros, which you can then withdraw to your bank account.
Please note that you can only withdraw euros to a previously connected bank account which was used to make a deposit at least once before. If you have not already done so, then we recommend that you purchase a small amount of cryptocurrencies (you can later sell them and withdraw the funds). This is necessary for the verification of your bank account and a critical security measure against money laundering.
Let's take a look at the entire process for selling Bitcoin where we consider that you don't even have a user account yet. If you already have one, then you can jump directly to the instructions for selling Bitcoin.
Registration to Kriptomat (instructions)
Go to

Kriptomat

and click on one of the registration buttons.

You will be redirected to the registration screen, where you will need to input your information.

Enter your real

name and last name

.

Enter your

email address

that actually exists.

Create a strong password

that you don't use anywhere else.

Solve the

Captcha

to confirm that you are not a robot.

Click the "

Create an account

" button.

Sign in to your email (the one from Step 4). You will receive a message from Kriptomat which will contain a confirmation link. Clicking on it confirms that you actually have access to this email.

After clicking the link, you will be redirected to a page where you have to enter your phone number. This is an additional security step to prove ownership of your user account.

You will need to enter the six-digit code that was sent to your phone number via SMS. This is how you verify your phone number.

Identity verification is the last important step before you can use the platform. You will need to upload images of a personal document (Kriptomat accepts National Identity Cards and Passports) and a "Selfie" where you hold the selected personal document in your hand (see the picture below for reference).
Check out our video guide for a better understanding of the process.
Check out our previous article on how to buy Bitcoin. Otherwise, let's continue with the process of selling Bitcoin.
How to Sell Bitcoin (instructions)
Sign in

to your Kriptomat account and go to the "

Buy/Sell

" section.
Select the "

Sell

" tab.

Select

Bitcoin (BTC) from a drop-down list of cryptocurrencies.

Enter the amount you want to sell. You can enter it either in euros or in Bitcoin. If you enter a euro amount, then the system will automatically calculate how much Bitcoin you will sell. If you enter a Bitcoin amount, then the system will automatically calculate how many euros you will receive.

Click the "

Sell Bitcoin

" button.

You will be redirected to a page where you can review and confirm the transaction.

You will soon receive euros to your Kriptomat user account! In most cases, the process takes a maximum of a few minutes.
Check out our video guide for a better understanding of the process.
At Kriptomat, you can sell all your cryptocurrencies directly to euro – even the ERC20 tokens that are available elsewhere only in pair with Ethereum (ETH). This means that you don't need to make double exchanges from token to ETH, and then from ETH to euro.
In the example above, we sold Bitcoin while considering that we already have them on Kriptomat's digital wallet. If you have Bitcoin on your private wallet, then you will first need to transfer them to your Kriptomat wallet. You can find your wallet address by following the guide below.
Sell Bitcoin using ATMs
A Bitcoin trade can also be done by using a Bitcoin ATM. This is a useful choice if you prefer to stay more anonymous because most ATMs do not require identity verification up to a certain withdrawal amount. You can use the ATMs to directly exchange your Bitcoins for cash.
It's a slightly less convenient method because you need to find a physical location of the nearest ATM. Depending on your current whereabouts, this may not necessarily be such an easy task. A service like Coin ATM Radar can help you out because it shows you the locations of all the registered Bitcoin ATMs.
We are providing you with a general description of how to use a Bitcoin ATM. Just like conventional ATMs, they operate in a standardized way throughout the world.
How to sell Bitcoin on a Bitcoin ATM (instructions)

Select a cryptocurrency
Find the nearest Bitcoin ATM. You will first need to select a cryptocurrency if it supports more than one. In our case, we will talk about selling Bitcoin.
Choose a transaction method
If the ATM supports buying and selling (some of them support only one or the other, but most support both), you will have to select the "Sell Bitcoin" option.
Enter the withdrawal amount
Some Bitcoin ATM vendors will offer a choice between several preset withdrawal amounts. They will also require identity verification if you want to cash out more than about 2,000 EUR worth of cryptocurrency (the amount may vary). This is a safety precaution on their part.
PS: we wholeheartedly support identity verification when we are dealing with fiat money and the traditional financial system. In our example, we purposefully chose a smaller withdrawal amount to avoid the verification process, mostly for the sake of greater simplicity.
You will still be able to enter the exact amount you want to sell, but you will have to stay within the set limit (2,000 EUR). For higher amounts, however, we do not recommend using Bitcoin ATMs as you will be spending far too much money on fees.
Getting a receipt
Once you enter the withdrawal amount, you will be able to request an SMS message that will notify you of the finished transaction process. We advise you to select this option and enter your phone number.
The ATM will then print a receipt with a Bitcoin wallet address. You will need to send Bitcoin from your wallet to this address. You can also send it out of your Kriptomat wallet account.
The recipient's Bitcoin address will be presented in text form and in the form of a QR code. Once they receive Bitcoin, you will be able to withdraw your money.
Understanding Bitcoin ATMs
At this point, you may be wondering why this payment process seems to be much more complex and longer in comparison to using a traditional ATM. Why can't I just insert a card and enter the amount I wish to withdraw? Why is it necessary to manually send Bitcoin?
Well, you have to understand that Bitcoin and the blockchain work in a fundamentally different way than the traditional financial system.
Bitcoin ATM vendors must actually receive your Bitcoin and then pay you money on the basis of the current Bitcoin market price. This is different from the financial system where you don't have to send money from your credit card and then receive cash in return.
Send Bitcoin to a Bitcoin ATM from a digital wallet
Bitcoin can be sent from any Bitcoin wallet. In this scenario, we will be sending Bitcoin from Kriptomat. Don't forget that you are not required to stand there at the ATM while the transaction is being carried out because it can take about 30 minutes to be processed. When it is, you will be notified via SMS, and you can then return to the ATM with the receipt and redeem your cash.
Here's a step-by-step guide.
Sign in

to your Kriptomat account and go to the "

My Wallets

" section.

You will see a list of cryptocurrencies. Choose

Bitcoin

.

You will see two options (Send, Receive). Click "

Send

" because we will be sending Bitcoin.

Enter the recipient's Bitcoin address and the amount of Bitcoin you want to send. The easiest way to do this is by clicking on the QR icon to scan the QR code that you received on the ATM.

Scan the QR code which should also contain information on the exact amount of Bitcoin you need to send. Enter the amount manually if it doesn't automatically contain this data.

Make sure all information is correct and click "

Send Bitcoin

".

Confirm the transaction and wait a few minutes. During this time, you do not need to stand by the ATM because you will be notified via SMS when the transaction is completed.

Return to the Bitcoin ATM and withdraw your money by scanning the receipt.

Take the cash from the ATM, and that's it!
Note that fees on Bitcoin ATMs are often much higher in comparison to those on online exchanges. Bitcoin ATMs, on the other hand, offer a higher level of anonymity than licensed exchanges.
How To Sell Bitcoin: Other Methods
Sell Bitcoin for gold
Instead of selling Bitcoin for euros, you may also be interested in selling Bitcoin for gold. We can also look at this as buying gold with Bitcoin. This is usually provided by your local gold exchange office (Moro in Slovenia for example).
In principle, the procedure is similar to selling Bitcoin on an ATM, but instead of receiving cash, you will receive gold at the physical location of the exchange office.
If you look at the Moro pricelist, you can, for example, see that we have to spend 0.373567 BTC for one ounce of gold (approximately 30 grams), and 11.755589 BTC for one kilogram of gold.
P2P Exchange
P2P is an abbreviation for peer-to-peer. In this case, this means that transactions are carried out directly between two people.
There are services that allow you to do this, but we do not recommend them to beginners. It can happen that you send Bitcoin to someone and you don't receive any money in return. Such exchanges require a greater degree of technical knowledge and caution.
When do you decide to sell Bitcoin?
Everyone wants to sell for the highest price, but Bitcoin growth is impossible to predict. Therefore, do not trust the various gurus who guarantee profits, but rather do your own research and trust your own judgment.
Some people even wait for a time when they will not have to sell their Bitcoin at all. What do I mean by that? Well, those people expect a future in which Bitcoin and other cryptocurrencies will be accepted as world currencies; and maybe even used instead of traditional fiat money.
You can monitor the Bitcoin market price at Kriptomat.
How To Sell Bitcoin: Conclusion
We hope that we have successfully explained how to sell Bitcoin in the most simple and secure way. Hopefully, you now have a better understanding of how to trade Bitcoin.
We learned that there are many different services that you can use to sell Bitcoin and a number of other cryptocurrencies. Which Bitcoin trading platform to use is now up to you.
The vast majority of these services basically work in a fairly similar way, but some are more suitable for beginners, and some are more experienced. You also need to be careful to use a service that allows you to exchange Bitcoin directly to the euro.
For the sake of safety, simplicity, speed, and accessibility, we recommend Kriptomat. It is a licensed and regulated service, and we are always available for assistance in your local language. As such, we believe that Kriptomat is the best Bitcoin exchange!
Use the comment section below if you have any questions, and we will be happy to respond as soon as possible!
NOTE
This text is informative in nature and should not be considered an investment recommendation. It does not express the personal opinion of the author or service. Any investment or trading is risky, and past returns are not a guarantee of future returns. Risk only assets that you are willing to lose.