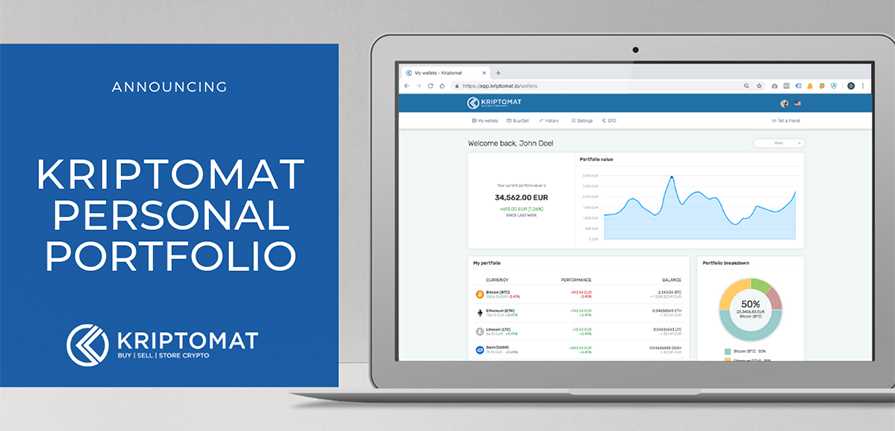 We are continually improving the Kriptomat platform in our mission to provide the best possible user experience. Kriptomat is a platform where anyone can easily buy, sell, store, and use cryptocurrencies. The service is regulated and licensed in the European Union, and follows all the latest security standards.
Today, we're glad to announce a brand new feature: Portfolio view.
You will be able to track all your cryptocurrencies in one place and get an accurate statistical overview of your portfolio on Kriptomat. This feature will help you to easier navigate your crypto funds in this ever-changing and evolving market.
We believe that this visual representation of data will drastically improve the user experience with Kriptomat! It will help you remain informed about crypto price movements and give you an opportunity to respond appropriately to different market conditions.
Portfolio value shows the current value of all your funds on Kriptomat. It includes a graph which will display your portfolio value over a chosen time period (week, month, 6 months, year, all-time). 
My portfolio shows your cryptocurrencies on Kriptomat and your balance. It includes the performance of your coins in a given time period.
Portfolio breakdown shows a distribution of your funds. For example, if you have 500 EUR in Bitcoin from a total of 1000 EUR worth of crypto, then Bitcoin will take up 50% of your portfolio. 
The portfolio feature is scheduled to be released at the start of July! 
NOTE
This text is informative in nature and should not be considered an investment recommendation. It does not express the personal opinion of the author or service. Any investment or trading is risky, and past returns are not a guarantee of future returns. Risk only assets that you are willing to lose.