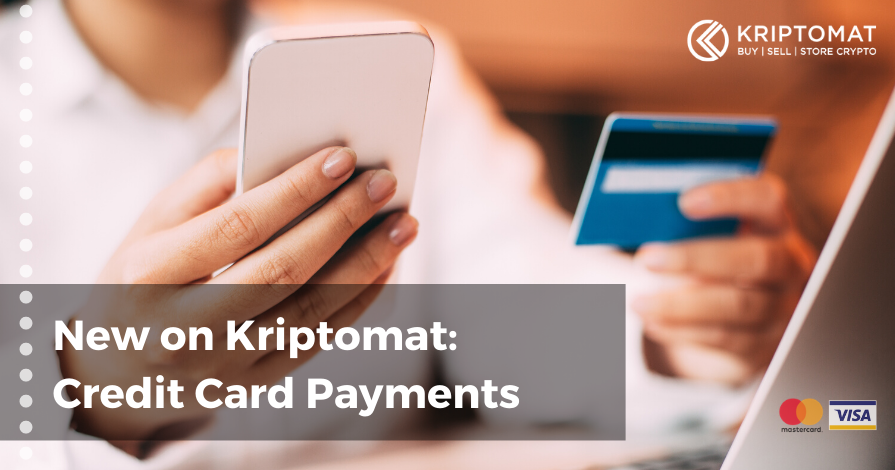 At Kriptomat, we are on a mission to facilitate the mainstream adoption of cryptocurrencies by developing the safest and easiest trading platform in the industry. That's why we are constantly striving to create the most user-friendly experience. As a major step in that direction, we are extremely excited to announce that Kriptomat now accepts credit cards for buying cryptocurrencies!
Our users already regularly use bank transfers and a variety of other popular payment methods for exchanging between fiat currency and cryptocurrencies, but credit cards provide a much faster and more convenient method of buying. We believe that everybody deserves crypto, and with this addition, we are one step closer to a world where everybody can instantly and easily buy cryptocurrencies.
Credit cards are currently available to most of our European customers. We will be expanding to other countries and continents in the coming days and weeks. So stay tuned for updates by following us on social media!
We are offering competitive fees of only 3.65% for purchases over 100 euros (the fees are dynamically calculated for lower purchases).
And you know what's really awesome?
Once you have added and used a credit card, it is automatically saved for instantaneous reuse in the future. This means that you won't have to reenter the credit card details every time you wish to make a purchase.
To get started, you can log in to Kriptomat right now and use your credit card from VISA or MasterCard. Visit the buy/sell tab and simply choose the credit card option when you're in the process of buying cryptocurrencies.
Read a detailed tutorial on how to buy cryptocurrencies with a credit card.
Don't have a Kriptomat account yet? What are you waiting for? Register here!
NOTE
This text is informative in nature and should not be considered an investment recommendation. It does not express the personal opinion of the author or service. Any investment or trading is risky, and past returns are not a guarantee of future returns. Risk only assets that you are willing to lose.