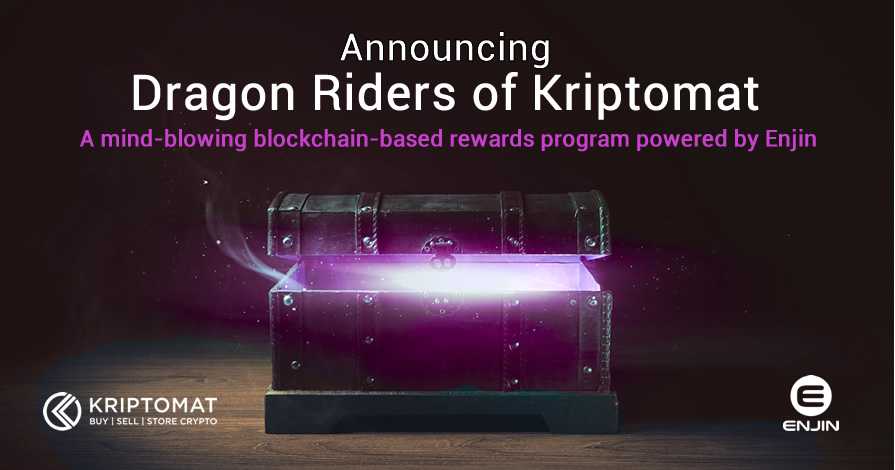 We have been promising it for months and now we are ready to unveil more information about the next major step forward in our journey to make crypto mainstream. Kriptomat is to become the first ever gamified trading platform that rewards you with valuable blockchain collectible items.
So today, we are proud to announce The Dragon Riders of Kriptomat and the accompanying giveaway.
The Dragon Riders of Kriptomat is breaking new ground as a blockchain-based rewards program powered by Enjin. It will feature real games, tangible assets, collectibles, and cryptocurrency savings or discounts. It will be a first of its kind rewards program and we fully intend to redefine the way retail rewards are designed and executed.
The Dragon Riders of Kriptomat is a complete gamified experience and it is scheduled to be released in the fall of 2019, but we want to start rewarding our early supporters!
The Giveaway of Special Items
In this blog post, we take a sneak peek at some of the items from this rewards program (including a tidbit of their lore). You will be able to win them in the giveaway which opens next week, so this is your chance to get your hands on these special items before everyone else. They will be usable on Kriptomat, but their effect will be felt all throughout the Multiverse!
When the rewards program is released, you will collect these items in a variety of different ways by using the Kriptomat platform, playing games and by participating in airdrops. We don't want to reveal too much just yet, but suffice to say that the items will give you an opportunity to receive super awesome discounts, powerups, and other special items which will be usable elsewhere.
So we are happy to reveal a collection of items that you will be able to receive in the upcoming giveaway …
Kriptos
They are mythical gems that will be used as currency on the Kriptomat exchange to buy various items. They will open portals that take you to new dimensions full of games and prizes. The more you have, the better, so make sure to participate in the giveaway to get a headstart on your journey! 
Ingredients

We will also give away a huge number of ingredients. Among other things, they include Elixirs and food. They are essential for the survival and breeding of dragons, as you will be able to read in our upcoming lore.
Collectibles
Some lucky supporters will also win a special collectible item and the discount that comes with it! Once we launch our rewards program, you will be able to jump onto Kriptomat.io and use your discount to claim massive savings on trading fees. In other words, this means more crypto for you!
What about the Kriptomat Founders Tokens?

Don't worry, we didn't forget about you! We are always mindful of the Dragon token owners because they are some of our most loyal supporters and have been with us on this journey since the very beginning. 
The owners of the Kriptomat Founder Tokens will receive special benefits, and one of them will allow them to receive more Kriptos. We are also preparing a special airdrop that will go out to each and every owner of the Kriptomat Founders Tokens.
So make sure that you have the Dragon in your wallet!
And don't forget that you will still be able to keep your Dragons and use them in over 20 games.
---
PS: Keep an eye out for more news. A lot more details about The Dragon Riders of Kriptomat are coming out in the month of July!
NOTE
This text is informative in nature and should not be considered an investment recommendation. It does not express the personal opinion of the author or service. Any investment or trading is risky, and past returns are not a guarantee of future returns. Risk only assets that you are willing to lose.