Candlestick charts look complicated at first glance, but they're actually quite simple.
The candlestick is one of the most widely used charting methods for displaying the price history of stocks and other commodities – including cryptocurrencies. It is a compact, clear way to illustrate price points and trends.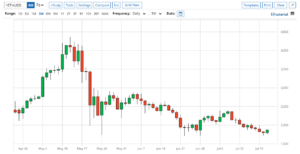 This candlestick chart illustrates Ether's daily price history over a three-month period. Every candle on the chart represents a single day.
Each candle consists of a red or green body plus an upper wick and a lower wick. (Some sites present monochrome candlesticks with open and closed bodies instead of red and green.)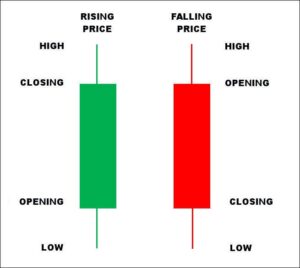 The wicks extend to the high price and low price reached during the trading period.
The body of the candle stretches from the opening price to the closing price.
If the candle is green, the closing price is higher than the opening price. Ether gained value. If the candle is red, the closing price is at the bottom of the candle; Ether lost value.
The length of the wick is a good visual indicator of volatility. Long wicks mean the price went much higher or lower than the opening and closing prices. Shorter wicks indicate less volatility.
Experienced traders recognize multiple-day trends in candlestick patterns, deducing how widespread buying trends and sell-offs are, identifying pauses and slowdowns in long-term price trajectory, and recognizing other trends. Or they look for patterns in candlestick charts showing rising and falling prices every hour or quarter-hour. Textbooks have been written about how to recognize and respond to patterns in candlestick charts.
But the basics are simple. The candle illustrates the opening price and the closing price for the relevant period, while the wick shows the high price and the low price. Green candles mean the crypto has gained value during the period, while red candles mean the crypto lost value.
NOTE
This text is informative in nature and should not be considered an investment recommendation. It does not express the personal opinion of the author or service. Any investment or trading is risky, and past returns are not a guarantee of future returns. Risk only assets that you are willing to lose.