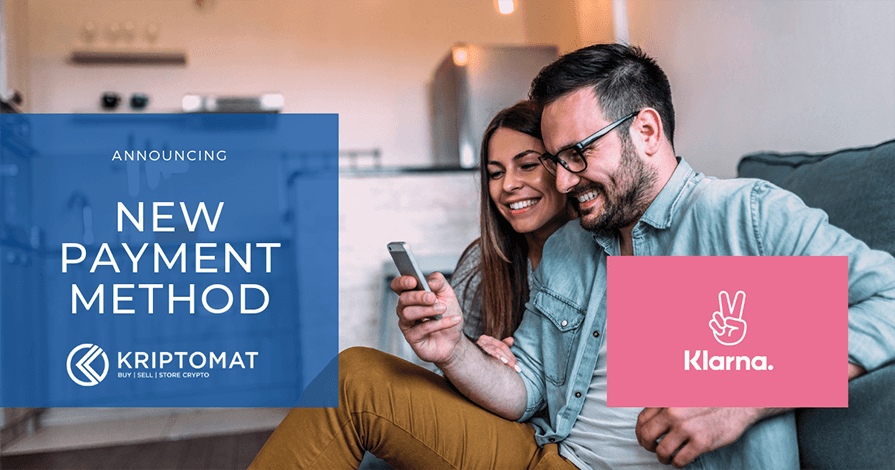 Kriptomat is the point where EUR meets cryptocurrencies. We're always trying to exceed the expectations of our users, which includes looking for new solutions on how to make the process of sending euros to Kriptomat more secure, reliable, faster, and affordable.
One of the reasons why our users like us, is because we're a global business acting local and we are constantly looking for new popular local payment solutions and other financial partners. After successful addition of Zimpler, we are excited to announce the popular Sofort (Klarna Group).
Use of Sofort for easier and faster entrance into the world of cryptocurrencies
We're excited to announce that we're introducing new payments options for Kriptomat, making it easier for our users to purchase their bitcoin and other cryptocurrencies. 
Sofort Überweisung or Sofort for short is a respected and secure payment service provider and is part of Klarna Group. Klarna is one of the leading providers for alternative payment methods in Europe with over 70,000 merchants and is trusted by over 60 million consumers. 
Sofort offers a fast and easy payment of your online purchases and transactions including your cryptocurrencies just by providing your online banking details. Sofort proves their swiftness by immediately sending their clients a real-time confirmation of the transfer, and we know our users need fast transactions to exchange EUR for cryptocurrencies.
Learn more about Sofort here.
Which countries and currencies are supported by Sofort?
Sofort will be available to our users from Germany, Austria, UK, Spain, and Switzerland. The supported currency will be the euro (EUR).
The Sofort payment method is scheduled to be released in July!
NOTE
This text is informative in nature and should not be considered an investment recommendation. It does not express the personal opinion of the author or service. Any investment or trading is risky, and past returns are not a guarantee of future returns. Risk only assets that you are willing to lose.