If you followed our Social media channels during the Summer, then you probably noticed that we were very busy adding new features to our platform. We also started to become much more active in our communications with the community and we are always happy when we receive constructive feedback from our awesome users.
Our aim is to always be very transparent, so it's time for a proper new official update. In this blog post, we will take a broader look at what we have been up to and where our focus lies for the remainder of 2018.
So let's jump right into it!
Tokens
We fulfilled our promise and added support for ERC20 standard compatible tokens on August 28th. The first two tokens to be added were Augur and Gnosis. Some people might wonder why those two tokens specifically, and the truth is that there is no one particular reason. They were simply a test of our system, and fortunately, things worked out smoothly.
Since then, we have added new tokens and we now support the following cryptocurrencies (ordered by listing date):
Our plan is to add about 50 ERC20 tokens, and we are picking them out based on user feedback and their utility. We also have to triple check everything and make sure that they comply with our legal policies. But rest assured, we are well on schedule and will be adding more tokens on a weekly basis.
We are also happy to announce that we have set up nodes for all the major top 10 cryptocurrencies. We will start to add those once we complete with the initial ERC20 campaign.
Mobile Application
The world loves mobile phones, so a mobile app was always something that we were always looking at very seriously. The work is already being done and we now have a beta version of the app which has the ability to show the prices of cryptocurrencies listed on Kriptomat.
We weren't entirely sure how long this process would last, so that's why we decided to roll out the simplest version of the app just to detect any potential issues before the real official app is released. I guess you could call the current version a proof of work ;).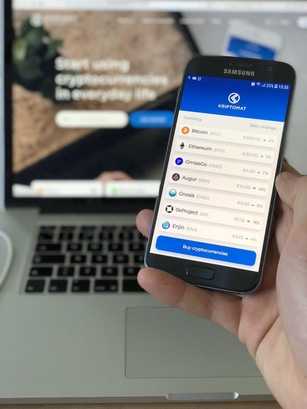 Our simple mobile app is already published and can be found on Google Play Store. Apple is having some issues with this version of the app as it doesn't provide enough value. They have a point, but we guess that they could still publish it. In any case, as it seems right now, you will have to wait for the full version of the app to be available for download on iOS devices
The development work for the app will finish in October. Publishing can take some time as we need to do a security audit and penetration tests. Safety first!
Website Redesign
We believe that our old (and current) website doesn't clearly communicate what we are, so we decided to make a complete redesign. The new version of the website will convey a feeling of trust and professionalism as we feel that the current website, although functional, doesn't do that job that well.
You can expect the new website to be up in October. We are still working on final tweaks and additional translations. The English version is all but completed.
Additional Languages
We are always looking for ways to make the platform easier to use for everyone. One part of that is to provide multilingual support as we recognize that not everyone is fluent in English.
We were excited to add two languages: Russian and Turkish.
Please contact our chat support or write us to [email protected] if you are willing to help us with translations for any language or proofreading.
Credit Card Support
Credit cards are here! We are working hard to enable new payment methods, so we were very happy to announce that you can now instantly purchase cryptocurrencies with your Credit card.
Currently, our provider supports Mastercard and very soon Visa will be added as well.
Improving the Verification Process
We have completely revamped the KYC process to be more robust and user-friendly. It's much more flexible when it comes to uploading different forms of documents and overall much better than what we have currently. We will be launching it sometime during the week.
Support & Video Tutorials
We are continually working on updating and improving our knowledge base and chat support. But we know that there is always room to make things better. In pursuit of making the platform easier to use, we are working hard on creating user-friendly video tutorials which will explain the most common functionalities of Kriptomat.
The videos are being edited as we speak — or write.
Community
Based on its tiny population and a wide variety of crypto-related projects, Slovenia is undoubtedly one of the leading countries in the world of cryptocurrencies. So it is only fitting that Bitcoin Association Slovenia organized a crypto picnic in collaboration with Blockchain Think Tank Slovenia. It was held in mid-September and of course, we couldn't miss out. We met with our collaborators in a more relaxed setting and we were able to work on networking and make new connections.
As you can probably tell, the work is being put in on every front. So are you still not registered? What are you waiting for? We will be happy to assist you in the process and we can't wait for your feedback!
NOTE
This text is informative in nature and should not be considered an investment recommendation. It does not express the personal opinion of the author or service. Any investment or trading is risky, and past returns are not a guarantee of future returns. Risk only assets that you are willing to lose.