Get ready for excitement and lots of BTC rewards. We're launching our biggest-ever Invite a Friend promotion with the highest rewards we have ever offered – and a chance to earn even more with an amazing 20,000 € prize pool.
This is your opportunity to earn huge rewards by sharing Kriptomat with friends.
Kriptomat Invite-a-Friend Promotion
Earn 200% of our usual reward for inviting friends to the Kriptomat platform. That's 20 € for each new user who makes 100 € in crypto purchases.
To sweeten the deal, we've boosted the rewards. Your friends and colleagues will earn too – from 10 € to 20 € upon completing 100 € in purchases.
The sky is the limit! Invite as many people as you like. You can even post your referral link on social media platforms like Reddit, Twitter, Facebook, Telegram, Discord, and crypto forums. Be creative! The more people who use your link to set up Kriptomat accounts and purchase crypto, the more Bitcoin rewards you earn.
Act now! This special program starts 10 March 2022 and ends on 30 April 2022.
Grab Your Share of the 20,000 € Prize Pool
Here's how our biggest referral promotion gets even bigger. Users who have completed 1,000 € or more of transactions at Kriptomat are eligible to earn up to 1,000 € in our 20,000 € Invite-a-Friend Prize Pool. Here's how:
Send your unique referral code to as many people as you can – via email, SMS, or even posts on social media.

If you're among the top 50 referrers between 10 March and 30 April 2022, you could earn a share of the Invite-a-Friend Prize Pool:

Place 1-10: 1,000 € in BTC
Place 11-20: 400 € in BTC
Place 21-30: 300 € in BTC
Place 31-40: 200 € in BTC
Place 41-50: 100 € in BTC

That's in addition to the 20 € per user reward you earn for each new user.

We'll announce the winners and transfer the rewards by 7 June 2022.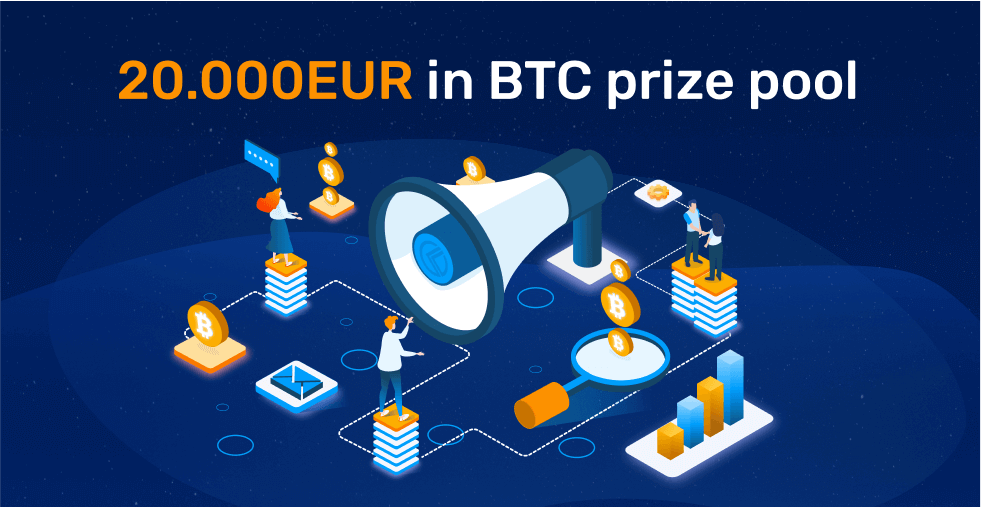 Track your progress on the Invite Friends page. Data is updated in real time.

That's all there is to it. The more referrals you make, the more you earn.
To receive 20 € rewards, the people you refer must be new users who:
Complete Kriptomat Identity Verification procedures
Purchase 100 € or more of crypto between 10 March and 30 April 2022
Hold at least 100 € worth in crypto on their account for 30 days
You must act now. This promotion is too good to last. Invite friends now and begin earning rewards today.
Kriptomat Terms and Conditions apply.
NOTE
This text is informative in nature and should not be considered an investment recommendation. It does not express the personal opinion of the author or service. Any investment or trading is risky, and past returns are not a guarantee of future returns. Risk only assets that you are willing to lose.