Let's say that you own a nice collection of solar panel arrays and want to earn some extra money. How do you do it? A simple way is to use SunContract.
The platform utilizes Ethereum and blockchain technology to verify and execute transactions. This technology isn't compatible with traditional, fiat currencies such as the euro or US dollar, so it requires the use of a cryptocurrency. This is where the SunContract's SNC token comes into play. 
Read below to find out how exactly the SNC token works.
The Energy Problem
If we agree with the general scientific consensus, then it's clear that the world is running on an unsustainable and extremely inefficient energy model. As with all things, the problem is multi-faceted and can't be looked at from just one angle. But the SunContract team believes that the existing power grid can be better utilized by adopting decentralized solutions which can also optimize the costly infrastructure operations.
Blockchain technology can be used to disrupt the energy industry. SunContract is an energy-trading platform that utilizes the blockchain technology to create a new business model for buying and selling electricity.
Electricity is produced in power plants that use high voltage power lines to transmit electricity over long distances. A lot of these power plants use polluting energy sources which are a threat to the environment.
Given the groundbreaking innovations behind the SunContract project, we are very excited to announce that SunContract's native token SNC can now be bought with euro right here, right now, on Kriptomat. You can read instructions on how to do so at the end of this article, but first, we will take a more detailed look at the SunContract platform. 

How to Use SunContract to Your Advantage
So how can you actually begin to trade electricity and buy products with the SNC token? At this moment, all of these functions are available exclusively in Slovenia, and expansion to member states of the EU is planned for 2019. Please note that you can still buy the SNC token even if you aren't from Slovenia.
With that in mind, the first thing you'll need is to register to the SunContract platform. You can then also download the official SunContract mobile application, available for Android and iOS.
Example: Selling Excess Electricity
Let's say that you want to sell some portion of the produced electricity to your neighbor. Both you and your neighbor will have to go through the following process.
You will have to complete the identity verification process or KYC (Know Your Customer).

Send 1000 SNC tokens to your SunContract account. At the current market price of 0.0316 EUR per SNC, this will cost you about 30 EUR. In simpler terms, this means that you can buy the SNC token on Kriptomat and send it to your dedicated SunContract SNC address where you can utilize the token to its full potential. Alternatively, you can also store your SNC token in your secure Kriptomat wallet.  

The next step is to upload your electricity meter data, along with your last bill from your current energy provider.

After you do so, SunContract will send you a contract that you'll need to sign to join something called the

balance group

.
A balance group is simply a collection of geographically similar electricity producers and consumers. Electricity is primarily transmitted within the balance group to minimize transmission costs. For example, all of the Slovenian users of the SunContract platform belong to the same balance group.
Once SunContract has received your signed contract, the process of terminating your existing contract with your current energy provider will begin via SunContract's partner SONCE who takes care of the entire process for you. They are managing the production and consumption of the Slovenian SunContract balance group, along with managing the electricity trading with other balance groups in order to accommodate any imbalance between the supply & consumption of electricity. The entire process of switching over to SunContract takes only a few days.
The P2P trading of electricity is possible when you and your neighbor are registered and on the SONCE balance group.
You (as the seller of electricity) can then send an invitation to your neighbor (as the buyer). The invitation to trade can also come from the buyer to the seller. At this stage, you can choose the price at which you want to sell your electricity. The transaction is confirmed if your neighbor accepts the price. If an agreement isn't made, there is an option to reject the proposed price and renegotiate. Hence why it is called a marketplace.
If there is no agreement at all, then an automated platform price is applied and the electricity is supplied via SONCE. That price is still competitive, but ultimately, SunContract encourages P2P trading among consumers and producers as that is the main goal of the platform.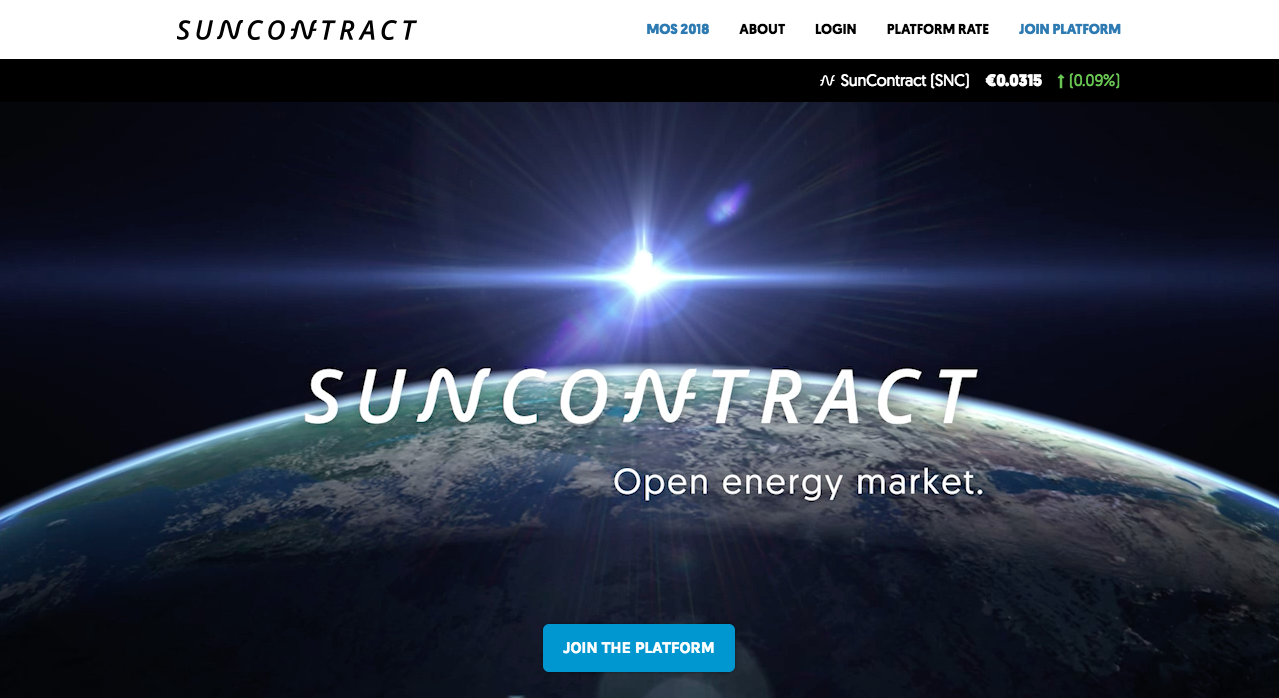 The SunContract Company
The SunContract project is currently being implemented in Slovenia and its team has more than two decades of experience in the energy sector. They're building the first worldwide peer-to-peer (P2P) energy trading platform (or marketplace) which was founded in 2017, by way of a token sale. The biggest differentiator between SunContract and other similar services is that they have already tapped into a public market and have the first mover advantage in P2P blockchain based energy-trading.
SunContract's main focus is on using environmentally-friendly renewable energy, specifically but not limited to solar energy.
They're on track with their roadmap which means that the operation will expand out of Slovenia to other European Union countries in 2019, with goals of operating globally later on.

The SunContract Vision
The SunContract team envisions a world where people can easily buy and sell GREEN energy at more competitive rates than currently available to them. This will create a number of opportunities for everyday people to earn, as well as save money.
As the company's name implies, SunContract's main focus is on using environmentally-friendly renewable energy, specifically but not limited to solar energy. They use the blockchain technology to create a new business model for buying and selling electricity.
SunContract enables people to earn money by selling energy cheaper to anyone that wants to help the environment. Their platform has two types of participants: energy producers and energy consumers. In essence, SunContract directly connects energy producers and consumers into an energy pool based on smart contracts. The middleman is no longer needed as this role is taken over by trusted and immutable blockchain technology. This innovative tech is implemented into the existing energy distribution systems without changing the energy regulatory framework or building any additional infrastructure.
How to buy SNC?
Here is a detailed step-by-step guide of how you can easily buy the SNC token with euro right here, on Kriptomat.
If you didn't register yet, you can do so by following

this link

.

Navigate to the

My wallets

tab (you should land on this page by default when you login).

If you don't have any funds to buy SNC, you will first need to deposit some money. If you're unsure about how to do this, you can read

our article about SEPA deposits

or contact our customer support.

Navigate to the

Buy/Sell

tab and choose the SunContract (SNC) cryptocurrency.

Choose the desired payment method and the euro amount that you wish to spend on buying SNC.

Click the

Buy SunContract

button.

You will receive SNC to your Kriptomat wallet in a moment.
---
Join the discussion on our social media!
NOTE
This text is informative in nature and should not be considered an investment recommendation. It does not express the personal opinion of the author or service. Any investment or trading is risky, and past returns are not a guarantee of future returns. Risk only assets that you are willing to lose.