Market capitalization illustrates the overall size of a cryptocurrency's place in the market.
To calculate a coin's market cap, you multiply the number of coins that have been issued by the price of a single coin. For example, on July 21, 2021, the supply of Ether was 116.8 million coins. Multiply that by the coin price of 1,588.61 euros, and you arrive at the Ethereum market cap of 185.5 billion euros.
You can use market cap to compare and rank coins within the crypto market. For example, the Fantom token has a price of 0.145 euros and a circulating supply of 2.54 billion tokens, for a crypto market cap of about 370 million euros. That's about 1/500th of Ether's market cap, which is understandable since FTM is primarily a governance token intended for internal use on the Fantom platform.

Market cap shifts and varies along with the prices and circulating supply of crypto coins and tokens, but relative rankings are relatively stable. Here are the top 10 cryptos by market cap in U.S. dollars in mid-July 2021:
Bitcoin: $578.1 billion

Ether: $218.3 billion

Tether: $62.0 billion

Binance Coin: $47.1 billion

Cardano: $36.1 billion

USD Coin: $26.8 billion

Ripple: $25.2 billion

Dogecoin: $23.6 billion

HEX: $22.9 billion

Polkadot: $11.3 billion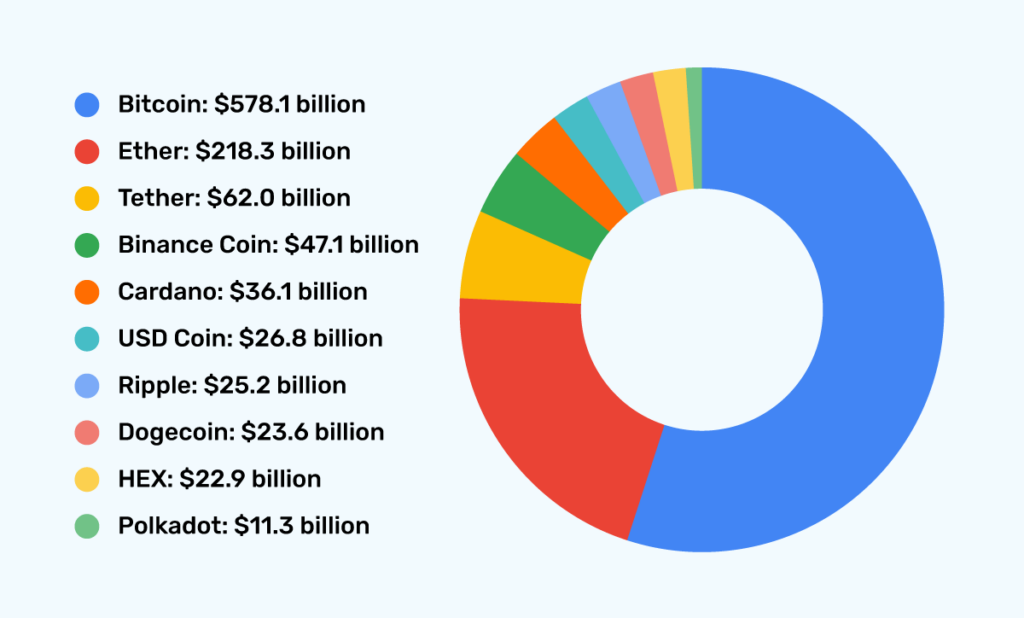 Cryptos with higher market caps generally have more investors and more influence over the price of other coins and tokens. That's one reason a cryptocurrency's market cap is the customary basis for ranking it within the crypto market. When you're evaluating a particular crypto's place in the market, price alone is not enough. Market capitalization is a more accurate measure.
Market cap can also reveal trends. When a group of cryptos related to decentralized finance applications or NFT trading begin rising or falling in value, for example, it's a sign that the market segment is attracting or losing investors.
NOTE
This text is informative in nature and should not be considered an investment recommendation. It does not express the personal opinion of the author or service. Any investment or trading is risky, and past returns are not a guarantee of future returns. Risk only assets that you are willing to lose.